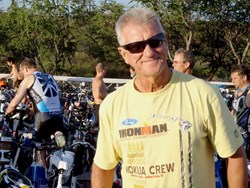 However you define your personal success, you need the patience to overcome challenges and the desire to stick with it. That desire comes from within and often comes by tackling the hard work that others won't do. –John Miller
Kailua-Kona, Hawaii (PRWEB) October 06, 2013
John Miller is a man who believes in setting and achieving goals. "Whether it's Big Island real estate or training to compete in a triathlon, it always comes down to discipline," said Miller, Top Producer for MacArthur Sotheby's International Realty. "However you define your personal success, you need the patience to overcome challenges and the desire to stick with it. That desire comes from within and often comes from tackling the hard work that others won't do. I have that commitment to the goals I set for myself and to fulfilling the real estate needs of my clients."
John and his wife, Pam, first moved to the Big Island in 2008 leaving behind a successful real estate business in southern California. They immediately fell in love with the island's active lifestyle (Hawaii consistently ranks as one of the healthiest states in the USA), but this award-winning realtor was a long way from competing in a world-class triathlon.
"When I first moved to the Big Island I could run maybe three miles, I had to wear a mask and snorkel to swim in the ocean and the idea of a 100 mile bike ride was beyond my comprehension," said Miller. "Five years later I'm ready to swim 2.4 miles in the open ocean, complete a 112 mile bike ride and follow it up with a 26.2 mile run."
This is John Miller's first IRONMAN® though he's volunteered for the last four years and has trained his way up through various Big Island marathons and competitions. Click here for John Miller's training video. He competes this year for a "Deep & Beyond" a Kailua-Kona based charity that creates opportunities for special needs individuals, disadvantaged children and at-risk youth to explore and experience the joys found in the natural beauty of the Big Island.
"I am using this event to raise awareness and money for "Deep & Beyond" because I believe that everyone should have the opportunity to enjoy the ocean and the pleasures of this incredible island. In this small way, I hope to give back to a community that has shown so much aloha to Pam and myself." John asks those interested in supporting the work of "Deep & Beyond" to visit their website at http://www.morethansport.com.
John Miller is a top producing agent for MacArthur Sotheby's International Realty and has been recognized by Honolulu Magazine as one of the "Top 100 Realtors" in the State of Hawaii. MacArthur Sotheby's International Realty is a boutique Hawaii real estate company offering the best in customer service with the global marketing reach of the Sotheby's network in over 600 offices and 46 countries. MacArthur serves the Big Island with offices on the Kohala Coast at Kings' Shops (808) 885-8885, in Kailua Kona at the Keauhou Shopping Center at (808) 331-3131 and in Waimea at Parker Ranch Square at (808) 885-8885. It's also the exclusive sponsor and administrator of the popular 'Big Island – Hawaii' Facebook page, showcasing the Big Island lifestyle and adding another 25,000 members to its global audience.