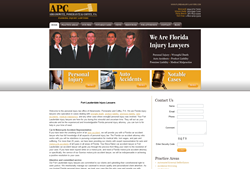 Our Website is here to provide a resource for those injured in Fort Lauderdale & South Florida
Fort Lauderdale, Florida (PRWEB) October 01, 2013
The Fort Lauderdale Personal Injury Lawyers at Abramowitz, Pomerantz & Coffey are pleased to announce the release of their new website at FloridaInjuryLawyers.com . This comprehensive website is intended to serve injured persons from all over the world who require the services of experienced personal injury attorneys in Florida. The firm's Broward County injury lawyers are intimately familiar with Florida's court system and can assist with a wide range of personal injury and negligence claims.
Floridainjurylawyers.com is available free of charge on a 24-hour basis. In addition to a sleek homepage that provides valuable background information about Abramowitz, Pomerantz & Coffey's Ft. Lauderdale Injury Lawyers, the site has a powerful live chat feature that provides clients with detailed information about the firm's services and practice areas. Knowledgeable employees provide fast, accurate responses to chat questions during extended business hours and happily schedule free consultations for prospective clients who wish to speak with a Florida injury attorney.
Floridainjurylawyers.com also offers 24-hour telephone consultations through a toll-free hotline. Prospective clients can call 1-800-909-5529 to speak directly with experienced representatives who will evaluate the merits of their claim and refer them to one of the firm's in-house attorneys. Since this hotline is available seven days a week, clients never have to worry about losing valuable time during the claims process.
Abramowitz, Pomerantz & Coffey also maintains a detailed Fort Lauderdale Personal Injury Law news bulletin and blog at Floridainjurylawyers.com. The site's news section contains a regularly updated list of announcements and stories about the achievements and initiatives of the firm's Florida injury attorneys. It also links to general news items about personal injury cases or settlements that could affect South Florida residents.
For its part, the Floridainjurylawyers.com blog offers an in-depth look at some of the trends and events that pertain to personal injury claims. It also features tips and advice for local residents who wish to file injury, negligence, product liability or malpractice claims against individuals and businesses.
The dedicated Accident Injury lawyers at Floridainjurylawyers.com have a broad range of practice areas. In addition to injury or wrongful death claims these professionals can handle negligence and liability claims related to motorcycle automobile accidents, accidental drownings, air traffic accidents, automatic external defibrillators, dog bites, defective drugs, trucking accidents, nursing home abuse, medical malpractice and more.
Over the years our Fort Lauderdale Personal Injury Attorneys have reached favorable settlements in thousands of similar cases.
For more information about the services that the seasoned Florida injury attorneys at Abramowitz, Pomerantz & Coffey provide, visit http://www.Floridainjurylawyers.com or call 1-800-909-5529 for a free, no-obligation consultation.