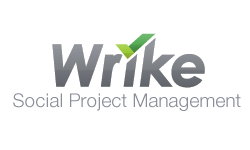 It was essential that our new investment partner would be fully aligned with our mission, vision and culture, and we found that in Bain Capital Ventures," said Andrew Filev, the founder and CEO of Wrike.
San Jose, CA (PRWEB) October 01, 2013
Wrike, a leading provider of project management and collaboration software, today announced a $10 million Series A venture capital investment round from Bain Capital Ventures (BCV), the venture arm of Bain Capital, one of the world's leading alternative asset management firms.
Launched as a self-funded, bootstrapped business, Wrike has pioneered a social project management space and the company now serves over 4,000 customers worldwide on the premium version of its product, from startups to Fortune 1000 companies.
"We deliberately pursued a lean and pragmatic growth strategy to build the best product in the space, one that people would love and use every day," said Andrew Filev, the founder and CEO of Wrike. "It was essential that our new investment partner would be fully aligned with our mission, vision and culture, and we found that in Bain Capital Ventures. Their team immediately embraced our product, space, and the positive disruption that we can bring to enterprise software."
Wrike's recent debut of "Graphite," its signature program's most innovative release to date, is among the most notable events for the company this year. Featuring a new flat design of the user interface and powerful new capabilities for easy and productive work, Wrike Graphite rethinks the efficiency of online project management. The most notable changes and enhancements include a timer broadcasting work status, reshaped project scheduling with dependencies, project infographics, new email notifications with the patterns of the Activity Stream, and HTML5 desktop pop-up notifications.
As part of the $10 million investment, Bain Capital Ventures' Managing Director Todd MacLean and SurveyMonkey's Senior Vice President Tim Maly have joined Wrike's Board of Directors, further underscoring the operational and cultural synergies among the companies.
"While there are many elements occurring at Wrike that we find compelling - a truly great product that helps make customers' working lives better as the most important starting point - at the end of the day, our business is really about picking the right teams and then supporting them however we can," MacLean said. "The most powerful signal is what the market is telling us. Wrike's customers are almost cultish in their devotion to the company's product. When you can get all of these planets to align, you have the chance for really good things to happen!"
"Andrew and the Wrike team have done a superb job of empowering people across the globe to work more productively and collaboratively via the Wrike platform," said Maly. "I've experienced it first-hand as we've deployed Wrike at SurveyMonkey to help us manage the design and construction of our new headquarters."
Alongside the new additions to Wrike's Board of Directors, BCV's Indranil Guha and serial entrepreneur, Igor Shoifot will join the leadership team as part of Wrike's growing Advisory Board.
About Bain Capital Ventures
Bain Capital Ventures is the venture arm within Bain Capital, which has approximately $70 billion of assets under management worldwide. The firm's history of investing in early stage companies dates back to 1984 with over 125 venture investments since inception. Bain Capital Ventures manages approximately $2 billion of committed capital, has over 65 active portfolio companies, and has offices in Boston, New York, and Palo Alto. The firm has helped steer many ideas to success by working in partnership with management teams, pairing talented and passionate entrepreneurs with industry experts, opening doors to customers, and collaborating on sound long-term strategies. - See more at http://www.baincapitalventures.com.
About Wrike
Wrike is the leading on-demand, online project collaboration software. It provides teams with a unique platform for collaborating on multiple projects in one workspace in real time. Wrike's collaboration features give a significant productivity gain to thousands of companies all over the globe, including teams in Adobe, EMC and Ecco. Wrike, Inc. is a privately held corporation located in California.
Wrike is a trademark of Wrike, Inc. All other product names are trademarks or registered trademarks of their respective holders.