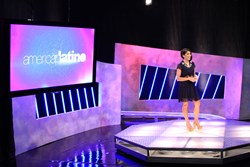 Los Angeles, Ca (PRWEB) October 04, 2013
LATV, the original national, bi-cultural entertainment network is proud to announce that its subsidiary American Latino Syndication, distributor of the award-winning American Latino TV and LatiNation, launches a new era with a slate of brand new episodes this Fall.
This season, American Latino Syndication's two ground-breaking programs will be seen in over 48 media markets, including Los Angeles, New York, Chicago, Houston, and Miami.
American Latino TV is a weekly, half-hour entertainment news and magazine show hosted by rising entertainer Valery Ortiz that sets the standard for culturally relevant television for young, U.S. born Latinos in the United States. This season brings exclusive interviews with Steven Bauer, Eva Longoria, Dania Ramirez, Nely Galan, and more.
LatiNation is a weekly talk show hosted by journalist/comedian Humberto Guida. From underground art to extreme sports, nothing is off limits on LatiNation. This season takes viewers behind the scenes of the X-Games, Comic Con, the world of Cosplay, and more.
"The American Latino market is severely under-served. Our viewers are hungry for more than just passive television entertainment," said Luca Bentivoglio, Head of Programming at LATV. "LATV Network's American Latino Syndication arm, provides fresher, stronger, cross-cultural television and give our audience a wide range of media platforms to choose from."
Visit americanlatino.tv to find out where to watch in your area.
LATV is the only remaining Latino-owned TV network in the Hispanic television space. Its programming primarily targets U.S.-born Latinos and the coveted bi-cultural 18-49 Latino demographic, with content that features a combination of originally produced shows as well as licensed content that has never before been seen in the U.S.
LATV's fully-owned subsidiary, American Latino Syndication, produces and distributes "American Latino" and "LatiNation," two award-winning, Latino-themed TV programs that are broadcast on general market stations in over 100 cities nationwide. For more information, please go to LATV.com and americanlatino.tv.
Media Contact:
Melina Rodriguez
Office: 310.943.5288 x 622