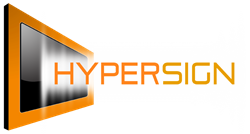 The 2013 South Carolina EdTech Conference is a great platform to showcase our products and we look forward to being a part of the conference. - Hypersign Team
Greenville/Spartanburg (PRWEB) October 03, 2013
Hypersign, the user-friendly digital signage software, will be showcasing their unique and intuitive software products at this year's South Carolina EdTech. With focus on education, medical care, and air travel; Hypersign intends to whet consumer's appetites for digital signage.
Located at booth 539, Hypersign will be exhibiting a few of its many sensational features. Presented on mounted displays and Samsung Galaxy Tabs, Hypersign will offer live demonstrations of Alert, KidGopher, and the award winning digital signage software itself. Witness how Hypersign could be utilized for schools, hospitals, and even airports.
The Hypersign Team says that,"The 2013 South Carolina EdTech Conference is a great platform to showcase our products and we look forward to being a part of the conference."
The South Carolina EdTech conference is an exhibition of workshop, speakers, vendors, and demonstrations from all areas of educational technology. Managed by the South Carolina Association for Educational Technology, a 501c3 non-profit organization, SC EdTech is intended to focus "...on instructional technology and taking attendees to new different heights in educational technology professional development." With over 100 sessions, 160 exhibit booths, and workshops available SC EdTech is sure to showcase new and innovative products. SC EdTech runs from October 9-11th, and is located in the TD Convention Center, Greenville, South Carolina.
Hypersign Software is an award winning software product development company focusing on building products that improves the lives of people. The Hypersign product is known for its incredibly intuitive interface making it the perfect digital signage solution for education (K12 and higher Ed) and healthcare. One of Hypersign's premier developments is the KidGopher product. KidGopher is known for its ability to greatly improve security and efficiency making it the best child pickup system for K12 Education. KidGopher, and other Hypersign software products are available to purchase from AV Integrators throughout the US and Canada.