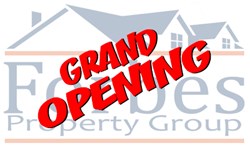 We are all committed to delivering the Best Full-Service Real Estate experience
Bradenton, FL (PRWEB) October 02, 2013
Forbes Property Group is pleased to announce the opening of a new real estate office in Bradenton this October. The Grand Opening celebration will be held Friday the 25th at 4pm. The General public and local real estate agents are cordially invited for refreshments and hors d'oeuvres. Owner Lee Forbes will preside over the red ribbon cutting along with top agents Cheryl Shoultz, Todd Rentschler, Aby Brooks and Richard Fitzsimmons plus our new Client Care Manager, Mindy Cress.
Grand opening Location: 5255 Office Park Boulevard suite 108 Bradenton, FL 34203
Lee Forbes, CEO and Founder of Forbes Property Group, says, "We have assembled a fantastic team with extensive expertise who embrace the cutting edge of technology we use for the Sarasota Bradenton housing market. We are all committed to delivering the Forbes Full-Service Real Estate experience, and will prove to be a tremendous asset to real estate buyers and sellers here in our community."
Forbes Property Group specializes in new home sales, listings, land and equestrian properties. Home buyers can search for Bradenton Real Estate on our website, http://www.ForbesPropertyGroup.com/search.html
This office represents our financial commitment to serving the Bradenton area. Our Office is equipped with the latest technology in media display and accessibility. By expanding to our office, we will be looking for two new agents to complement our current staff. If you are quite computer savvy and interested in a new career in real estate, or looking for a change from your current office, contact Lee at 941-932-8866 or read more on our website, http://www.forbespropertygroup.com/join-our-team.html
Lee Forbes & Associates are responsible this year alone for a record 74 transactions in the Bradenton, FL area. There is no question that Lee Forbes & Associates can assist any individual or corporate entity in the location, relocation, or sale of any real estate related matter within Manatee County. Please call today and connect with one of us at 941-932-8866.
Our motto says it all: Honest, Hardworking and we DO what we say!
For more information, contact:
Lee Forbes
Forbes Property Group
5255 Office Park Blvd
Suite #108
Bradenton, FL 34203
(941) 932-8866