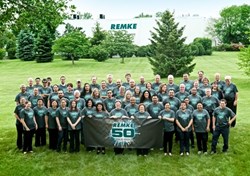 The future is so bright we need industrial-strength sunblock.
Wheeling, IL (PRWEB) October 03, 2013
It's taken 50 years to become a premier manufacturer of electrical connectors, cord grips and more, building Remke Industries from the ground up. During that time, they have experienced growing pains, worked hard to achieve many victories, had unexpected successes and fought recession that kept them awake at night.
Remke has found new ways to use time-tested materials and methods to create better electrical connectors, in shorter production runs. A foundation of amazing people has been built and they've learned lessons from every one of them, from customers to employees, past and present.
But this isn't going to be one of those articles where backs are patted for how great the past 50 years have been. They're in the past. And although they are important, eyes are set on the future.
And the future is so bright Remke needs industrial-strength sunblock.
They've gained the wisdom, insight and expertise it takes in the first 50 years to launch new levels of success, service and innovation during the next 50.
5 Things Remke Learned in the First 50 Years to Make the Next 50 Incredible
1. Personal service to exceed expectations
Delivering very personal service, understanding what customers really need to succeed, and then exceeding expectations has been paramount to everyone at Remke. It's what makes a new customer happy, and creates loyal customers that rely on them to solve problems and offer solutions.
2. Make the right connector the first time by fully understanding customers' needs
The way to deliver the right electrical connector the first time is to fully understand a customer's needs. It's also an integral part of providing personal service. This philosophy has led Remke to create high-quality electrical connectors that work the right way, the first time, and are reliable for a long time.
3. Stay nimble in every situation to learn and apply knowledge
Future progress depends on the learning curve. With so much changing in technology, materials and manufacturing, staying nimble is crucial. Being a small company helps Remke stay flexible to meet the specifications of each customer, not just supply products.
4. Simplicity of design and production delivers quality in small quantities
A cutting edge production environment helps Remke deliver custom solutions to all types of companies, big and small, for all types of requirements. From short, custom production runs to large runs of stock electrical connectors, they have everyone covered. It's one way to simultaneously see each tree, as well as the entire forest.
5. Treat employees well for long term success
Remke's employees take care of customers, and each other. Treating them right means they treat customers well. It's a cycle that centers on people, and theirs are some of the best. This commitment to employees has created a core group that's been loyal for decades. Offering opportunities to grow and learn gives employees a reason to care about their jobs and the customers they serve. They take care of customers, and Remke takes care of them.
With eyes set keenly on the future, and 50 years' experience under their belts, Remke is excited about the coming years! They are working on new, innovative ways to deliver the right electrical connectors to you. Watch Remke.com for more information.