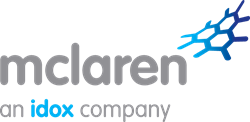 Houston, TX (PRWEB) October 01, 2013
McLaren Software, a leader in engineering document control and project collaboration solutions, announced the appointment of David Brazier as Vice President of Marketing for their newly formed Asset Intensive division. David was previously with IBM where most recently he was Senior Program Director for IBM's Enterprise Content Management (ECM) business; responsible for worldwide market development, sales support and enablement for all vertical markets. Brazier is a 13 year veteran of IBM, having rejoined the company in 2006 following the acquisition of FileNet Corporation where he served as Vice President of Worldwide Industry Marketing. With more than 30 years of leadership and management experience in the software industry, Brazier has held a number of senior marketing and business development positions with companies such as Schlumberger, Computervision, Sherpa Corporation, GEC Marconi Electronics and Ford Motor Company. Brazier holds a Bachelor of Science degree in Mechanical Engineering from Anglia Ruskin University in the United Kingdom.
McLaren's Asset Intensive Business Unit is specifically focused on providing solutions for Owner Operators and EPCs in industries such as Oil & Gas, Utilities, Nuclear, Life Sciences and Process Manufacturing.
"With his strong industry expertise and tenure at IBM and FileNet, David Brazier brings valuable experience to our management team," said Paul Muir, CEO of McLaren Software. "David will be laser-focused on identifying new opportunities in the Asset Intensive space and cultivating our presence in new and emerging markets," said Muir.
"I am excited to join the McLaren team during this time of growth in the demand for software solutions that help manage the increasing volume and complexity of engineering documentation," said Brazier. "The requirement for firms to collaborate across organizational and geographic boundaries is vital to maintain a competitive advantage in today's global business environment."
McLaren Enterprise is an enterprise scale document control suite that ensures a single point of truth for engineering documentation; ensuring compliant, safe and efficient capital projects and asset operations. Covering all elements of a capital project from design and build through to operations and maintenance and eventual decommissioning, McLaren Software solutions provide a seamless exchange of information with industry regulators, visibility and transparency into the project, secure project collaboration and document control, and a central record repository where all legally admissible documents are securely protected and retained in accordance with regulatory guidelines.
About McLaren Software – Engineering Document Control and Project Collaboration
McLaren information management solutions secure and control asset information across the lifecycle from concept through to decommissioning.
We provide owner operators, EPCs, contractors and employees with the most robust source of critical asset information - their single source of truth. Our solutions are agile, easily scaled and adapted to evolving business needs. Our approach is always people led and process centric. We provide the user interfaces and support that accelerates adoption and improves the productivity of each and every team member.
From major capital projects and asset operations to construction projects and facilities management, McLaren information management solutions reduce risk and improve safety, profitability compliance and performance.
Supporting over 300,000 users in 50 countries, McLaren solutions are available in the cloud, on premise or privately hosted on the McLaren OnAir cloud infrastructure. Recently announced, McLaren Document Control Services is a comprehensive outsourced capital project document control solution comprised of a privately hosted cloud-based implementation of McLaren Enterprise plus experienced document controllers for a flexible, all-inclusive fee structure. http://www.mclarensoftware.com
About IDOX plc
IDOX plc is a supplier of specialist document management collaboration solutions and services to the UK public sector and increasingly to highly regulated asset intensive industries around the world in the wider corporate sector.
Its Public Sector Software Division is the leading applications provider to UK local government for core functions relating to land, people and property, such as its market leading planning systems and election management software. Over 90 percent of UK local authorities are now customers. The Group provides public sector organizations with tools to manage information and knowledge, documents, content, business processes and workflow as well as connecting directly with the citizen via the web.
Through the Information Solutions Division IDOX also supplies, predominantly to the public sector, decision support content such as grants and planning policy information as well as related specialist services. The Group employs over 500 staff located in the UK, the USA, Europe, India and Australia. http://www.idoxgroup.com