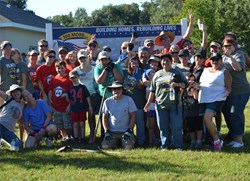 Homes for Our Troops allows ISPC to get personally involved with the beneficiaries of our support.
Tampa, FL (PRWEB) October 16, 2013
It was a muggy, hot morning on Saturday, September 21st in Lutz, Florida, yet the employees of ISPC had no complaints as they volunteered their time to help install the landscaping for Marine Corporal Justin Gaertner's new home. Justin was left a double amputee after being caught in an IED blast while on patrol in Afghanistan in late 2010. ISPC was first introduced to Justin almost one year ago through the charity, Homes for Our Troops (HFOT). ISPC got involved with HFOT as a fundraiser for Justin in the summer of 2012 but on this day, ISPC's staff put on their yard working clothes and got dirty for this worthy cause. The specially adapted home being built for Justin is nearing completion and his Key Ceremony, where he is given the keys to his new home without obligation, is scheduled for December 4th.
ISPC's Marketing Director, Mark Schabes, shared, "HFOT not only provides ISPC with the opportunity to contribute for veterans who have returned home and are striving to get back to normalcy in their lives, it allows us to get involved on a more personal level in our local community. This day was the first opportunity we've had to directly participate with Justin's project. Don't get me wrong, donated money is a major benefit to any charity, but HFOT also allows us the opportunity to get personally involved with the beneficiaries of our support. It's great to see the results of our support in person and it provides ISPC with a team building opportunity to boot!"
Recently, ISPC introduced a select group of merchants within their network to HFOT and many of these merchants graciously agreed to join ISPC in its ongoing fundraising efforts. Schabes says, "this collective effort is yielding substantial donations to HFOT, which makes us all feel great." In addition to the fundraising, as HFOT building projects emerge in other markets around the country, some of ISPC's participating merchants will be able to volunteer in their local communities as well.
About ISPC: ISPC serves families all over the country by providing open credit that can be used to purchase a variety of home improving products. ISPC provides financing through qualified contractors primarily in the water treatment, solar and HVAC industries. Since their inception in 1984, ISPC has enabled thousands of families to afford products that improve their lives.