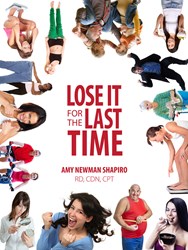 As the name suggests, "Lose It For The Last Time" is about a weight loss/weight management plan that will deliver long term results.
Long Island, NY (PRWEB) October 01, 2013
With obesity rate reaching new heights in the developed nations, numerous research and studies have termed it as a physical as well as a psychological problem. Filling the void for a solution that tackles the issue on both levels, Amy Newman Shapiro, a registered dietitian and certified fitness expert and has developed a wellness plan that promotes weight loss through behavioral changes and healthier choices.
After successfully helping a large number of clients in achieving their fitness goals, Shapiro shares her knowledge and expertise through her very first book, "Lose It For The Last Time," reaching a broader spectrum of prospects who are risking their health and wealth by indulging in traditional restrictive diet routines.
As the name suggests, "Lose It For The Last Time" is about a weight loss/weight management plan that will deliver long term results. The idea was born after Shapiro's unsuccessful attempt at finding an existing weight management plan with sustainable results. Most of the plans, as Shapiro found out, only offered short-term results because those routines were too tough to continue on a regular basis. "There wasn't a single weight management program that showed people how to make lifelong changes and achieve long term goals. As a psychology graduate, I understood it was because those plans failed to answer the underlying issues such as eating behavior and attitude towards food. That is when I started to work on a comprehensive weight management plan that can infiltrate the roots of the problem."
Shapiro's weight management plan has an amazing track record and is highly recommended by her clients. Through the book, Shapiro aims to reach out to a broader demographic of readers who lack the motivation, tools and techniques required to successfully manage weight and obesity issues.
According to Shapiro, "Lose It For The Last Time" was created to share more than just a weight management plan. "Lose It For The Last Time" is based on the theory that sustainable, healthy and long-term weight loss can be achieved through improved eating habits. The first few chapters, for this reason, provide an insight into the readers' relationship with food, the reasons why typical weight loss programs don't work in the long term, and the importance of making healthier changes in attitude and lifestyle. It highlights the reasons why most people regain weight after they have achieved their goal through the traditional diet programs. "You 'go on' a diet, therefore, you will inevitably 'go off' the diet," says Shapiro.
"Health is not just about the number on the scale," adds Shapiro "and similarly not everyone has similar weight issues or goals. The plan starts with a self-assessment tool that will help you map your current position as well as your future aspiration and goals related to your health. It helps you track your way back to how you got where you are so that you can establish your path to the place you want to be. Most people don't know where to start until they identify what has been getting in their way."
Shapiro's plan is appropriate for both the beginning exerciser and the exercise enthusiast. The book advocates the idea of a weight management plan that answers weight issues on an individual level and is simple enough to incorporate in an average person's life. After achieving a highly satisfactory success rate, Shapiro was encouraged by her clients to put her knowledge and learning in the form of a book.
Lose It For The Last Time ($19.95, ISBN: 978-0988607118), a 240 page paperback can be purchased at most major online book retailers including Amazon. For more information regarding the weight management plan described in "Lose it For the Last Time" or to download a sample chapter visit the website http://www.loseitforthelasttime.com.
About Amy Newman Shapiro
Amy Shapiro, author of "Lose it for the Last Time", is a registered dietician and certified exercise and wellness coach. A Highly qualified RD, CDN, CPT with thirteen years of experience, Amy also has degrees in Nutrition and Psychology. Her qualifications and experience have helped her develop a weight management program that focuses on delivering long-term results through behavior modification and lifestyle management. Amy believes in a well-balanced life. She has two grown children and currently lives on Long Island New York with her husband.
For contact, please use the following information.
###
Contact details
Amy Newman Shapiro
Phone (631)979-6699
Email: amy(at)loseitforthelasttime(dot)com