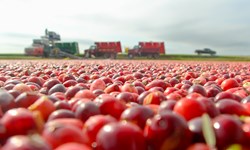 Our goal is to build on South Korea's interest in healthy food products being sought be increasingly health conscious consumers. - Scott J. Soares
Wareham, Massachusetts (PRWEB) October 07, 2013
As the cranberry harvest season peaks across the nation, US Cranberries representatives announced today a multi-day tour introducing South Korean journalists to North America's native cranberry in the United State's largest cranberry growing state of Wisconsin.
"There is already great interest in the South Korean market for U.S. cranberries based on an over 200% increase in export volumes since 2008," said Scott J. Soares, Executive Director, US Cranberries. "Our goal is to broaden consumer awareness and to build on South Korea's interest in healthy food products being sought by increasingly health conscious consumers."
In South Korea, U.S. cranberry products such as tea, health bars, dried fruits and scones are at an increasing number of food outlets such as Paris Baguette, Lotte Food, Mango Six, EMart and Bread 05.
As a result of US Cranberries market development program in South Korea, four journalists, one editor in chief, and one professional photographer from leading food and lifestyle magazines will have an opportunity to observe and participate in the cranberry harvest, visit a processing and packing plant, sample a variety of cranberry products, and meet with representatives from US Cranberries and the Wisconsin State Cranberry Growers Association (WSCGA).
"This visit is a great way for one of America's traditional fruits to be shared on the world stage, while also helping to increase awareness in South Korea of the berry and its history, sustainable growing methods and health benefits," said Tom Lochner, executive director of WSCGA. "These journalists are well-respected in South Korea, and we want them to share this unique cranberry experience with their readers at home."
The tour will take visitors through the heart of Wisconsin's cranberry county, including a visit to the Wisconsin Cranberry Discovery Center, Jacob Searles Cranberry Co., Cranmoor Cranberry Co., Ocean Spray Cranberries, Inc. and Mariani Packing Company. The journalists will also learn how central Wisconsin Chefs are cooking with the versatile berry at specially-prepared dinners at Christian's Bistro, the Silver Coach, and Great Expectations.
The total projected harvest for U.S. cranberries in 2013 is over 800 million pounds, with Wisconsin expected to break a harvest record with a projected crop of 490 million pounds of cranberries.
In seeking new opportunities to expand the year-round appeal and consumption of the cranberry in all of its versatile product forms, industry and U.S. Cranberry Marketing Committee members have organized a number of educational tours in cranberry growing states to raise B2C and B2B awareness both domestically and internationally.
A similar tour recently took place Oct. 1 through Oct. 3 in Southeast Massachusetts' 14,000-acre cranberry growing region to introduce Russian buyers to U.S. cranberries. Massachusetts ranks second in the nation for cranberry production.
The American cranberry (Vaccinium macracarpon) is only one of three commercially cultivated native fruits. The other two are the blueberry (Vaccinium cyanoccoccus) and Concord grape (Vitis labrusca).
Cranberry Production Facts:

In order of production volumes, cranberries are commercially grown in the states of Wisconsin, Massachusetts, New Jersey, Oregon and Washington. Cranberries are also grown on a smaller scale in Connecticut, New York, Rhode Island, Minnesota, Maine and Michigan.
There are approximately 1,200 growers farming cranberries on 40,000 acres of marshes and bogs in the US. Cranberries are also commercially grown in Canada and Chile.
Fresh, frozen, dried or juice – product diversification has led to a wide variety of culinary innovation opportunities.
Over a ten-year period, US cranberry export volumes have grown from 12% to nearly 30% of total production.
A serving of fresh cranberries is a good source of vitamin C and fiber, provides antioxidant polyphenols, and contains only 1 mg of sodium.
US Cranberries - US Cranberry Marketing Committee (CMC) - The CMC was established as a Federal Marketing Order in 1962 to ensure a stable, orderly supply of good quality product. Authority for its actions are provided under Chapter IX, Title 7, Code of Federal Regulations, referred to as the Federal Cranberry Marketing Order, which is part of the Agricultural Marketing Agreement Act of 1937, as amended. This Act specifies cranberries as a commodity that may be covered, regulations that may be issued, guidelines for administering the programs, and privileges and limitations granted by Congress. For more information about the CMC, visit http://www.uscranberries.com. Follow at http://www.twitter.com/uscranberries and http://www.facebook/cranbecravers.
WSCGA was founded in 1887 and is committed to developing and implementing programs that will assist growers in doing a better job of growing cranberries and strengthen the public support for the industry in Wisconsin. For more information, visit http://www.wiscran.org, Like WSCGA on Facebook and Follow on Twitter.