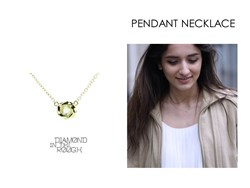 Timeless, natural and elegant add a unique touch to any personality
New York, NY (PRWEB) October 01, 2013
Diamond in the Rough is a precious jewelry company known for one-of-a-kind natural rough diamond designs. Each piece is individually handcrafted, combining both traditional and modern styles to create wearable works-of-art. The brand aims to showcase the true beauty of diamonds in their most natural and uncut form. Founder, Daniel Eskapa, personally selects each natural uncut diamond and, together with his team, crafts a distinctive setting to complement the stone's intrinsic character. Diamond in the Rough has graced the red carpet on artists such as: Rihanna, Jennifer Lopez, Alicia Keys, Emmy Rossum, and many more!
The Aria Collection: The first of its kind, Aria embodies simplicity and beauty. Each piece features an untouched, uncut diamond complimented by a simple white, yellow, rose or black gold setting that illuminates the precious stone. The simple setting envelops the diamond, mimicking the petals of a flower reflecting beauty back to nature. At Diamond in the Rough, the design doesn't determine the look of a piece, but rather the diamond inspires the essence of a collection. Aria speaks to the woman that is a dreamer, purely desiring laughter and joy.
The Aria Collection features pieces with a modest, yet alluring natural diamond. Aria's versatility encourages women to unleash their individuality, dressing the pieces up or down in their own unique fashion. She can personalize her look with various types of gold, such as: classic white gold, black for an edgier feel, warm and romantic rose gold, or traditional yellow gold for a modern, chic look. Whether you are searching for an elegant accessory for your wedding day, a sweet 16 present, or just because, the Aria jewelry set is perfect for all occasions. Aria rings are ideal for stacking, mix-and-match different shades of gold to express your playful side. Pair your Aria ring with matching studs and a pendant to complete the graceful look. This collection caters to everyday women who desire a fashionable, budget-friendly way to own a piece of natural rough diamond luxury.
# # #
To find out more about Diamond in the Rough and the Aria collection, please visit:
Website :http://diamondintherough.com/shop/aria
Facebook: http://www.facebook.com/DITRJewelry
Twitter: https://twitter.com/DITRjewelry
Pinterest: http://pinterest.com/ditrjewelry/
Blog: http://thediamonddossier.com/
Instagram: DITR_jewelry