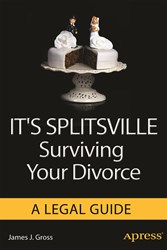 "Nearly a million people get divorced each year in the United States. Many, if not most, could be handled far better for all parties involved."
New York, NY (PRWEB) October 01, 2013
Nearly a million people get divorced each year in the United States. Many, if not most, could be handled far better for all parties involved. Apress Media's newest release, "It's Splitsville: Surviving Your Divorce," by veteran divorce attorney James J. Gross, safely guides readers through the hazards of divorce. Gross helps to simplify the legal process and ensure exes emerge on the other side as stronger, wiser, and better people. "It's Splitsville" focuses on having readers come out of a divorce with their dignity and skin intact. Gross digs into separation agreements, protecting assets, divorce courts and spousal agreements with regards to children's best interest.
Within the book, Gross breaks down the divorce process for non-lawyers in easy-to-understand steps. He explains the legal system in plain and simple language, describes the process of obtaining a fair separation agreement, and shows how to easily navigate family law. Just as important, the title explains the emotional hazards of divorce and how to withstand the myriad pressures that could occur.
For more information on, "It's Splitsville," please visit http://www.apress.com/9781430257165.

ISBN: 978-1-4302-5716-5
285 pages
User Level: Beginner to Advanced
Publication Date: September 30, 2013
Available eBook Formats: EPUB, MOBI, PDF
Print Book Price: $24.99
eBook Price: $17.99
About the Author
James J. Gross is a divorce lawyer in Chevy Chase, Maryland, who has been helping people solve their most difficult legal problems since 1976. He has authored or co-authored "File for Divorce in MD, VA and DC," "Father's Rights," and "Money and Divorce". He writes for two blogs, Father's Rights and Maryland Divorce Legal Crier. He holds a B.S. in Chemical Engineering, a Juris Doctor, and a Master of Laws in Taxation.
About Apress Media
With more than 1,500 books in print and e-formats, Apress is the authoritative source for IT professionals, software developers, and business leaders all over the world. Apress provides high-quality, no-fluff content that helps serious technology professionals build a comprehensive pathway to career success. Since 2007, Apress has been part of Springer Science+Business Media, one of the world's leading scientific, technical, and medical publishing houses, enabling global distribution of Apress publications. For more information, please visit http://www.apress.com.