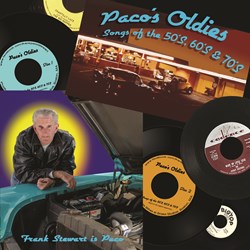 Boston, MA (PRWEB) October 03, 2013
Proving that not all dreams are for the young, Paco is making a big impact on the New England music scene. Ric Poulin, Senior Producer at Bristol Entertainment remarks that, "Paco seems to be well on the road to fulfilling his late in life dreams, it is exciting and inspirational to see someone, at his age, continuing to pursue a passion that burns deep within him and finding success!"
Frank "Paco" Stewart is 67 years young, a retired New England real estate CEO, married 43 years with three children and five grandchildren. He resides in Gloucester, MA with his wife Margie. Since retiring in 2010, he has spent the last three years chasing his heart's desire; to be a singer, songwriter, actor and overall entertainer.
By accident, while researching music schools in Boston on the web, he stumbled upon Bristol Recording & Voice Studios and it has literally proven to be a match made in heaven. Paco, as he is called by family, friends and fans, was thrilled to find a full service teaching and recording facility for both budding and professional musicians alike, that in his words is "extremely user friendly." He reports that "the great folks at Bristol couldn't have cared less what my age is… as their sole focus is to help anyone with a passion for music find their inner talent and live out their individual dreams." He adds that "like anything worth pursuing in life, becoming a professional entertainer simply comes down to heartfelt commitment, the proper education to hone your individual musical personality, establishing appropriate industry contacts, unswerving perseverance to finally reach your innermost dreams… and of course much love and support from those who believe in you."
Paco's 42 oldies songs have just been released on iTunes, Amazon.com and other music websites following a fantastic launch event and celebration on the ocean in Gloucester, MA for family, friends and all of his music colleagues at Bristol Entertainment. The Release Party centered around an old-fashioned "Down East Clambake" catered by the famous Woodman's Of Essex, in a celebration uniquely appropriate for an oldies album.
Paco is motivated by his simple desire to help people touch their innermost emotions through the vehicle of song, to help them celebrate their own life's blessings be it through laughter or even warm tears. By focusing not just on oldies, but also inspirational pop, show-tunes and even faith-based classics, he sings in the style of Michael Buble', Josh Groban, Neil Sedaka and Neil Diamond. After all, it was his mother Priscilla Stewart, a classically trained concert pianist at Boston's Longy School who as a church organist and choir director introduced him as a child to the wonders of music.
"Frank Stewart brings a high level of professionalism and attention to detail in everything he does." ruminates Poulin, "So of course he approaches his singing career in this fashion. This is an artist with a great voice, dance skills, a very fun album and a show that is right up there with the best". Poulin believes Paco's latest "Oldies" Album is sure to touch the lives and hearts of many, especially for those whose teenage years revolved around the music of the 50's, 60's and 70's. He reminisces on those past years: "that was truly one of the best of times for so many of us." Paco agrees fully with Ric Poulin's assessment of those "Oldies" years, as he reflects back on them. He states categorically that "It's why I spent over a year putting these oldies songs together, as they collectively reflect some of my very best memories while I was in that wonderful but challenging stage of growing up. The music is simply part of my soul."
In addition to his affiliation with Bristol Entertainment, Paco is thrilled to have recently been accepted and signed by JRP (John Robert Powers) New England Corporation with the goal of diversifying his entertainment capabilities further into acting; be it commercials, sitcoms or movies. While he readily acknowledges that this new challenge will only become a success if he absolutely gives it his all, just like at Bristol, it is the final dynamic of his late in life dreams that still lies unfulfilled. From what we've witnessed of his efforts and resulting success thus far, we're not about to bet against Paco finally realizing and reaching that "impossible dream".
"Why let old age slow down or limit what you accomplish in life?" Poulin says, "Why not reach out to grab the end of the rainbow? It's closer than you might think! Just take a leaf out of "Paco's" book, which he continues to write to this very day."
Follow "Paco" on the web: http://www.facebook.com/frankpacostewart, or on http://www.reverbnation.com/frankpacostewart.