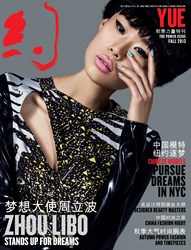 (PRWEB) October 01, 2013
YUE Magazine, an Observer Media publication connecting China's affluent travelers with luxury businesses in the United States, will debut an eye-catching, fresh, new look with its Fall 2013 issue. The publication's re-design comes as the magazine celebrates its second anniversary this fall.
Starting September 2013, both YUE and its West Coast edition, formerly known as LUO, will share the same magazine title YUE. YUE's East Coast edition will cover the unique experiences that New York and surrounding regions have to offer, while YUE's West Coast edition will focus on the lifestyle of California and Las Vegas. "We want the best of two worlds - a national brand with region-specific content," says Chiu-Ti Jansen, Publisher of YUE Magazine, "we are constantly seeking to sharpen our edge in engaging our curious readers who develop fast-changing tastes. A strong national brand will further our name recognition among the Chinese luxury travelers who seek to bond with the alluring U.S. lifestyle."
In addition, the magazine will adopt a new oversize format, dynamic layouts, expanded exclusive contents and the powerful use of original photography to create maximum impact. This September, readers will also discover enhanced digital content with the magazine's new iPad application.
YUE Magazine is the first bilingual lifestyle magazine focusing on the unique luxury experiences in the United States for affluent Chinese consumers. YUE publishes four issues a year and covers everything from fashion, jewelry, watches, art, shopping, culture, fine dining, real estate and education, offering China's sophisticated reader a multi-faceted view and a better understanding of America's elite lifestyle.
YUE Magazine is a joint venture between Observer Media (publisher of The New York Observer), and CHINA HAPPENINGS, a multimedia platform focusing on the lifestyle industries in contemporary China.
CHINA HAPPENINGS
CHINA HAPPENINGS is a multimedia platform founded by Chiu-Ti Jansen that focuses on the lifestyle and cultural industries in contemporary China. Ms. Jansen is a TV presenter, a lifestyle magazine publisher and a writer based in New York City. She hosts TV and video presentations on fashion and style for Phoenix TV, Phoenix Fashion and Sina Fashion, and writes a blog titled CHINESE ELEMENTS for international auction house Sotheby's (http://www.sothebys.com) and a fashion and style column titled NEW YORK IN STYLE for the Financial Times' Chinese edition (http://www.ftchinese.com). Prior to founding CHINA HAPPENINGS, Ms. Jansen was a New York-based corporate partner of an international law firm. A native speaker and write of Mandarin Chinese, Ms. Jansen holds advanced degrees from Yale University and Columbia Law School and serves on the Contemporary Art Advisory Committee of China Institute in America and the Board of the Couture Council of Museum at the Fashion Institute of Technology (FIT).
Observer Media
Observer Media is a diversified media company that offers readers cutting-edge reporting available on a variety of platforms, written by an editorial staff known for its distinctive and discerning style and wit. Observer Media is emblematic of journalism today – a bridge spanning traditional and digital media, including The New York Observer, Commercial Observer, luxury magazines and Observer national web properties (observer.com, politicker.com, galleristny.com, betabeat.com).
PRESS CONTACTS: Observer Media / YUE Magazine
Zarah Burstein, zburstein(at)observer(dot)com / Phone: 212-407-9394