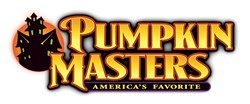 Ocala, Florida (PRWEB) October 01, 2013
Once again, America's trusted Halloween brand is looking for the best pumpkin designs for its annual Pumpkin Masters Carving Contest. Pumpkin Masters® will choose five winning pumpkins based on creativity, originality and style. The contest opens on Oct. 1 and runs throughout the month.
Contest entries will be organized and judged by category. Categories include best monster, multi-pumpkin display, haunted houses, all in the details and silliest. One pumpkin will be selected as the grand prize winner for $5,000. Each category winner will be awarded $1,000. Entrants may submit pumpkins for multiple categories.
To submit your winning pumpkin, follow Pumpkin Masters on Instagram and/or Twitter and share the image using #PumpkinMasters2013, use the Facebook Pumpkin Carving app or email the image to social(at)pumpkinmasters(dot)com. You can submit to multiple categories. Entries must be submitted by Oct. 31, 2013 at 11:59 p.m. ET. The winning pumpkins will be announced on Nov. 11.
Before you begin carving, make sure to pick the right pumpkin from the pumpkin patch. Choosing a pumpkin is a fun family adventure. Does it sit flat? Is it firm and have a healthy stem? The experts from Pumpkin Masters provide tips, found here, for picking the perfect, carve-able pumpkin.
Pumpkin Masters offers a variety of carving tools and kits, including two new kits this year, offering the perfect, budget-friendly activity for the whole family. The Decorating Punches Pumpkin Tool Kit ($7.99) helps create professional-quality designs with multiple sized punch tools and the Xtreme Strobe Flashing LED Light Kits($4.99), available in white and multicolored lights, include four bright LEDs for maximum lighting. Pumpkin Masters kits can be found nationwide at CVS, Walmart and Target, as well as local and regional grocery, craft and supply stores.
For more information, visit http://www.pumpkinmasters.com and find Pumpkin Masters on Facebook, Twitter and Instagram.
About Pumpkin Masters
Pumpkin Masters® is the creator of the world's first pumpkin carving kit that makes it easy to create intricate, decorative pumpkin designs. Since its introduction, the Pumpkin Masters carving kit has changed the way millions of Americans celebrate Halloween.
Today, Pumpkin Masters continues the tradition of innovation with a full product line including carving tools, lighting, decorations, trick-or-treat accessories, and more. We are deeply committed to upholding our reputation as America's Trusted Halloween Brand.