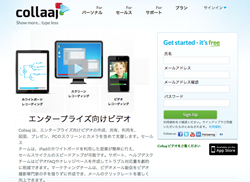 "With a solid team, a rapidly maturing product and customer momentum, we are looking to expand our business with partners." Kiran Kamity, Co-Founder & CEO of Collaaj.
SUNNYVALE, CA (PRWEB) October 01, 2013
Collaaj, Inc., a Silicon Valley-based company and maker of a 'YouTube-like platform for creation and sharing of videos for enterprise and edu', announced its partnership with Soliton Systems K.K., a publicly traded (3040:Tokyo) enterprise software company headquartered in Japan, to expand its service in Japan. With this partnership, Soliton Systems, will become an exclusive distributor to resell Collaaj in Japan.
Within the enterprise, Collaaj targets IT, Helpdesk, Support, Sales & Training departments. It enables these groups to quickly and easily create video tutorials and FAQs, including screen captures and whiteboards, edit them with a few simple clicks, and then share them using custom branded channels. Here's an example of a Collaaj Channel. Collaaj customers can create similar channels with their own logos and branding.
"Collaaj's video platform is truly unique compared to the other 'YouTube for Enterprise' platforms because it combines rich content creation with content sharing," said Dr. Nobuo Kamata, President & CEO of Soliton Systems. "There are several YouTube-like offerings that provide the capability to organize your business' rich content for easy sharing. However, Collaaj completes the story by providing simple-to-use apps that work on any device; using such, business users, students as well as educators, can create videos, screencasts or whiteboards, and simply upload them to the video sharing platform. Come to think of it, the biggest barrier to adoption of YouTube-like platforms in the enterprise is the lack of content. And now that users can easily create and share content, I see this platform providing significant value in enriching enterprises, at the same time maintaining simplicity. Our enterprises will find it truly useful. "
The platform has two components – lightweight apps for content creation and a YouTube-like backend for content organization and sharing. The apps for Collaaj work on PC, Mac and iPad today. The PC and Mac versions enable users to create voice & video messages as well as screen captures. The app for iPad enables users to create whiteboard videos, including annotations over documents, PPTs and images. All the apps come with simple editing wizards for adding animated titles/credits to videos as well as trimming/chopping them, making it easy to create professional-looking videos. All videos can be easily uploaded to collaaj.com with a simple click and can be accessed anytime. The YouTube-like backend is hosted on the cloud, with on-premise options available based on customer need.
"We launched our generally available product in mid 2013. And since then, we have quickly accumulated several enterprise and education customers. With a solid team, a rapidly maturing product and customer momentum, we are looking to expand our business into other geographies and verticals," said Kiran Kamity, Founder & CEO of Collaaj. "Soliton Systems makes a perfect partner in Japan because of its strong customer base, 30-year-old presence in the geographical region, as well as experience in building and selling collaboration and video products. We have thoroughly enjoyed the fast pace and professionalism with which Soliton has worked with us, and look forward to a long and mutually rewarding relationship with Kamata-san and his team."
Collaaj has been researching the Japan market since early 2013. With this partnership announcement with Soliton Systems and the appointment of Yutaka Shimowada as its VP of Sales & BD, it is solidifying its presence in Japan.
Collaaj service, including the 'business' version, is offered at a competitive monthly subscription price with no initial setup fee. To get started with a free trial of Collaaj for your enterprise, please visit http://www.collaaj.com, or write to info(at)collaaj(dot)com. For partnership and reseller inquiries, contact partners(at)collaaj(dot)com.
About Soliton:
Soliton Systems K.K. (JASDAQ 3040:JP) is an innovative system solutions provider headquartered in Tokyo, Japan, with offices in San Jose, California and Shanghai, China. Founded in 1979, Soliton has been a pioneer in LAN, broadband Video on Demand, IT Security, and other technology products.
About Collaaj:
Collaaj, Inc. is a collaboration company based in Silicon Valley that brings videos, screencasts and whiteboards into enterprise and education. Customer support, helpdesk, sales and training teams, primarily use Collaaj to easily create, edit and share video tutorials, video FAQs and even video emails, including screen captures and whiteboards. Setup is instantaneous and the low monthly subscription price is super convenient.
Twitter @CollaajCorp
facebook.com/collaaj
linkedin.com/company/collaaj
Sign up for free at http://www.collaaj.com
All trademarks and registered trademarks are properties of their respective owners.