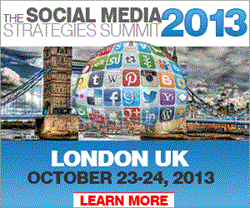 SMSS is a unique opportunity to get up to speed, learn from leading B2B brands and keep up with the ever-evolving world of social opportunity.
London, England (PRWEB) October 01, 2013
The Social Media Strategies Summit will be hosting its third annual event in London, 23-24 October, 2013, at the Tower Hill Dexter House. The two-day summit will help attendees address the most challenging issues their companies are facing in social media, and the event provides an excellent opportunity for attendees and speakers to connect and network with other social media and marketing specialists.
Over 20 speakers, including:

Dara Nasr, Twitter
Peter Briffett, LivingSocial
Schalk Viljoen, SAP
Callan Green, Sony
Jim Rosenberg, World Bank
Richard Fray, HSBC Expat
Antony Robbins, Museum of London
To review a complete list of speakers, click here.
Featured topics covered during the summit include content strategy and content optimisation across social channels, increasing consumer engagement, lead generation and selling products through social media, and adapting your organisation to the new social customer service.
Björn Ühss, Social Media Manager Europe at Intuit, will be presenting on how social data and lean experimentation can transform business. The audience will get an overview and insights of how Intuit became a social business and how it's maximising (and measuring) social media to market its products and transform its business. "Social media has finally reached the B2B C-Level suite which makes it necessary to come up with impactful and new ways of using social," says Björn. "SMSS is a unique opportunity to get up to speed, learn from leading B2B brands and keep up with the ever-evolving world of social opportunity."
Jadis Tillery, Social Media Strategist, will be presenting on engaging and adapting through content. This session will look at trends, tools and strategies for helping businesses learn to connect with their audiences in a meaningful way that adds value for everyone. "'Content is king' is such a throw-away phrase that we miss the real power behind that statement," says Jadis. "In a landscape when marketing is real-time and brands have done away with the middle men to become media owners speaking directly to their audiences, the power and potential of content has never been greater. I'll be taking a practical look at how content can be engaging and adaptive in an ever evolving digital landscape."
To review the entire agenda, visit the summit website:
http://www.socialmediastrategiessummit.com/london-2013
There is still time to secure a seat at a discount! Register before 11 October and save £100.
About GSMI:
GSMI is a leader in the industry of executive education, creating conferences, summits, workshops and training sessions that combine rich learning environments with the opportunity to network with today's most relevant thought leaders, speakers and practitioners. GSMI's annual events have reached 70% of the Fortune 500 companies, in over 30 countries, covering topics that today's leaders find most challenging and inspiring. For more information about Global Strategic Management Institute's upcoming educational events for professionals, please visit: http://www.gsmiweb.com.
MEDIA CONTACT:
Suzy Sclater
suzysclater(at)ems-ltd(dot)org
441225462298