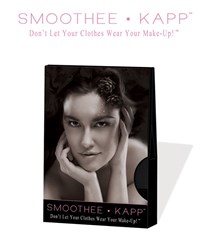 Don't Let Your Clothes Wear Your Make-Up!
Ocean Springs, MS (PRWEB) October 02, 2013
Smoothee Kapp LLC is joining the social media using twitter to gain consumer and retail interest about their new beauty product, Smoothee Kapp.
Smoothee Kapp is a mesh head garment designed to keep clothes free of make-up stains when changing apparel. It comes with a matching silky pouch for storage and can be taken shopping or traveling.
Smoothee Kapp LLC wants every consumer and retailer the opportunity to know about their unique problem solving beauty product. Using twitter is a great way to connect with your target audience sharing your products and ideas, states the company, Let's face it, make-up stains on clothes is not fashionable, so creating and designing a unique product to solve this daily common struggle was our goal.
Smoothee Kapp gives back to the consumer with each use and makes the dressing experience more enjoyable. Smoothee Kapp is designed to be stretchable, breathable and see through. It's soft to the face and easy to use. Simply stretch the band out, slide it over your head, change clothes, slide it off and your ready to go.
Don't let another make-up stain ruin your favorite outfit!
Follow us on twitter @smootheekapp to learn more about this unique problem solving beauty product.