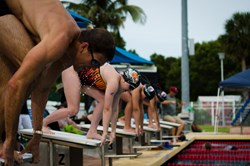 We want to make our services more accessible to swimmers on the west coast.
Los Angeles, CA (PRWEB) October 08, 2013
The Race Club is expanding operations to sunny California. In an effort to serve more clientele effectively, TRC will begin The Race Club California effective immediately. After searching for the right facility that would be located in a desirable area and offer sufficient hours of operation, we signed an agreement with the Maggie Gilbert Aquatic Center at Pacific Palisades High School (Pali High), located in the Santa Monica Mountains to provide a west coast location.
The Maggie Gilbert Aquatic Center is located near the Pacific Coast Hwy and is approximately 15 minutes drive from Santa Monica. It has a ten-lane deep water 25 yard pool with high quality starting blocks and lane lines. To complement our Race Club Florida camps and lessons, we will start by offering private instruction in all of the Race Club methods and, as the demand increases, will consider adding Race Club camps to the schedule.
"I am excited to bring The Race Club to California," states Gary Sr. "Having grown up in the LA basin, I understand the rich swimming tradition here and throughout California. What The Race Club offers swimmers of any age or level is a very unique and comprehensive approach to both technique and training. We want to make our services more accessible to swimmers on the west coast and Pali High is the perfect place to do that."
To schedule private instruction at The Race Club California, please contact Amy(at)theraceclub(dot)com or call her at 877-swim race.