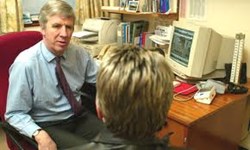 It is a great to see that a follow on effect will mean both time and money are saved across the NHS
Bolton, UK (PRWEB UK) 1 October 2013
Around 10,000 British women are diagnosed with the aggressive HER2 form of cancer each year and are subjected to hours of treatment whilst the drug is administered. In a new system that has received the green light from NHS authorities, treatment could now take as little as 2 minutes, rather than hours (1).
Speaking on the breakthrough, Suzanne Yates, executive at Asons Medical Negligence Solicitors who specialise in dealing with breast cancer misdiagnosis claims, said:
"With HER2 being so aggressive, even a minor delay in the diagnosis of breast cancer could be detrimental to the health of the woman in question, and time then becomes a precious commodity.
Cancer is a very personal journey for many women, and when they are battling for their life, spending hours wired to a machine receiving medication is time they could be spending with their loved ones."
According to The Telegraph, doctors working with the drug have said that the new development would offer women a "dramatic improvement" to their quality of life whilst battling the aggressive disease (1).
It has also been said by experts that the time saved by medical professionals could potentially save the NHS a substantial amount of money if it is introduced routinely across the country (1).
Continuing to comment, Suzanne Yates said:
"Aside from the fact that this treatment is allowing women to save hours upon hours of their time throughout their course of treatment, it is a great to see that a follow on effect will mean both time and money are saved across the NHS.
The health service is currently being stretched its limits, and with this the prevalence of medical negligence claims being filed against the NHS is increasing. By making breakthroughs such as this in treatment, which save both time and money, medical professionals we be able to fulfil their roles with more care and compassion, preventing instances of negligence such as breast cancer misdiagnosis, as more quality time and money can be invested into patient care."
Asons Solicitors offer legal representation on anyone who feels they have been subjected to medical negligence whilst being treated for a form cancer, including the delayed or complete misdiagnosis of the disease. To find out more information visit http://www.asons.co.uk or phone 01204 521 133 to speak to one their medical negligence solicitors.
(1) The Telegraph, Two minute breast cancer treatment gets the green light for the NHS, 24/09/2013,
telegraph.co.uk/journalists/laura-donnelly/10328883/Two-minute-breast-cancer-treatment-gets-the-green-light-for-the-NHS.html

About Asons Solicitors:
Asons Solicitors is a Bolton-based law practice that specialises in personal injury and industrial disease claims. Founded by brothers Imran Akram and Kamran Akram, Asons Solicitors has developed to become a young and dynamic law firm that delivers practical solutions to clients in times of difficulty. Their continued focus on their staff has seen them awarded with the Investors in People "Gold Award"; which is reflected in the professional and personable approach they take in working with clients. They strive to grow and to develop, and their supportiveness and attention to detail ensures that their clients use them time and again.
For further information contact:
Email: info(at)asons(dot)co(dot)uk
Website: http://www.asons.co.uk