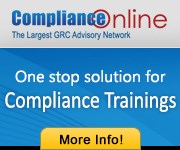 Palo Alto, California (PRWEB) October 02, 2013
ComplianceOnline provides cost-effective regulatory compliance trainings that are top-rated by users for their quality and content. These trainings are led by recognized experts and industry veterans with decades of experience in regulatory affairs and issues. ComplianceOnline has successfully trained over 45,000 professionals from 9,500 companies to comply with the requirements of regulatory agencies.
For more information, please visit http://www.complianceonline.com
ComplianceOnline provides compliance training for the following industries:
Banking and Financial Services - BSA Compliance, BASEL III, Anti-money laundering Fraud, BFSI Auditing, Fraud and Misconduct, Disclosure Reporting, BFSI Regulatory Filings, Solvency, Financial Statements, Taxation, FATCA etc.
Life Sciences-Medical device, Biotechnology, Clinical Research, Drugs and Chemicals, Laboratory, FDA GMP, FDA GCP, FDA GLP, FDA Submission Guidelines, Food Safety, FDA packaging and labeling guidelines etc.
Healthcare- Data security, Medicaid and Medicare updates, tele-medicine, PPACA, HIPAA and HITECH updates, business associates, OCR/HHS audit, etc.
Food and Dietary Supplements – HACCP, ISO 22000 requirements, Contamination Control, FSMA, Food and Dietary Supplement GMPs, Recordkeeping, allergens, FALCPA, marketing claims, etc.
ComplianceOnline delivers trainings designed for the following professions too:
Corporate Governance- Federal Corrupt Practices Act, UK Bribery Act, Foreign Corrupt Practices Act, ISO 31000/31010(SOX), SEC's New Whistleblower Rules, etc., HR compliance, OSHA compliance, EH&S Green Compliance, trade and logistics etc.
HR – Federal and state labor laws like FLSA, FMLA and ADA, EEOC compliance and affirmative action, HR policy implementation, payroll and I-9 compliance, handling internal investigations, managing employee misconduct, performance management, employee termination, HR documentation and audits etc.
OSHA - Federal RCRA, California Hazardous Waste Regulations, Industrial Hygiene Monitoring Strategy, Legal Liability Act US Workplaces, Accident Investigations and the Law, etc.
In addition to seminars and webinars, ComplianceOnline also provides regulatory best practices, whitepapers and articles about the latest regulatory compliance issues. Renowned experts and recognized authorities in the field of regulatory compliance write articles about the latest regulatory changes affecting industries around the world. ComplianceOnline also provides the latest and up-to-date compliance standards necessary for quality and compliance practitioners.
About ComplianceOnline
ComplianceOnline is headquartered in Palo Alto, California and can be reached at http://www.complianceonline.com. ComplianceOnline is a MetricStream portal. MetricStream (http://www.metricstream.com) is a market leader in Enterprise-wide Governance, Risk, Compliance (GRC) and Quality Management Solutions for global corporations.