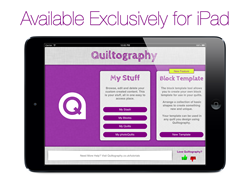 This app has solved my biggest road block to putting fabric together. You can try your fabrics in just about any design without touching scissors!
Market Harborough, UK (PRWEB) October 09, 2013
SlideSwipe App Development is proud to announce that Quiltography for iPad reached number 1 in the US App Store's Lifestyle category on September 22, 2013. Quiltography is a premium app priced at USD $14.99 and provides a quilting community with the tools to track their fabric and design a wide variety of blocks and quilts in a simple and easy to use manner.
Quiltography launched on April 29, 2013 and has been gaining steady traction over that past 5 months. Quiltography boasts an average of 5 Stars on the US Apple App Store and is maintaining a cult following on Facebook. (http://facebook.com/Quiltography)
Quiltography provides the tools for quilters to import virtual fabric and subsequently audition their ever growing fabric "stash" in one of many included block templates; more creative users are free to make their own block using the recently added and easy to use block editor. Quilt blocks can be arranged in a grid format to produce many unique quilt designs which can then be shared with friends and family via email, Facebook and more. Quiltography also includes a "photoQuilt" tool that takes a user's photo and instantly turns it into a customized quilt pattern. "photoQuilt" is an invaluable tool for users to immortalize loved ones via a unique quilt design, with minimal effort.
Key Features:

Store user's virtual fabric.
Tag fabric for easy searching.
Create a photoQuilt pattern from any image or photo.
Create detailed quilt patterns as a PDF from any photoQuilt.
Includes over 180 block templates.
Create your own template blocks.
Customize blocks with personal fabric.
Automatic color detection of the top 5 colors within fabric images.
Filter and search blocks and fabrics.
Design and share high quality quilt designs.
Quilt options include: border, sashing, cornerstones and more...
Create place holder fabric from any color.
For more detailed information on Quiltography please visit http://quiltography.co.uk or https://itunes.apple.com/us/app/id585991997?ls=1&mt=8.
Device Requirements:

iPad 2nd Generation and Newer
iOS 6.0 and Later
36.1 MB
Pricing and Availability:
Quiltography Version 1.21 is available worldwide through the Apple's App Store in the Lifestyle section for $14.99 (USD) in the U.S. and is priced accordingly in other regions.