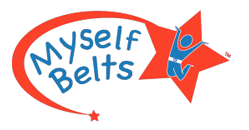 St. Louis, MO (PRWEB) October 02, 2013
Myself Belts' new styles are in, just in time to meet the demand of parents finalizing their children's back to school wardrobe. Children's and toddler belts can give an outfit a cute, trendy finishing touch. Even though the fall season has just begun, in the retail sector the holiday season will soon be in full swing. The new belt designs for fall include basic solids and several trendy designs. The new Solid Khaki Canvas and Solid Navy Canvas are staples in the school uniform wardrobe and are also conducive to monogramming. Myself Belt product personalization typically includes names or initials, but belts can also be branded with a school logo. The new whimsical designs include an Outer Space themed belt, pink and navy striped ribbon belts, and a Pink Sparkle belt for a fashion-forward shimmer.
Myself Belts' patented one handed easy to use belt closure, helps to get a child's day started on the right track. Parents will appreciate the company's focus on children's belts and toddler's belts. The functional design makes life easier for both the child and the parent, because little hands can easily dress themselves. With fun styles that kids enjoy wearing, along with solid colors that fit school uniform requirements, Myself Belts provide children with an "I did it by myself!" moment. Owner Talia Goldfarb says that the new styles have been received well by customers and retail stores that sell the brand. For a full listing of physical stores, customers can view a listing at the Myself Belts website.
The innovative belt company typically launches new designs twice a year, balancing staple solids with fashion patterns that young children will enjoy. The Myself Belts team is currently working on new designs for spring and plan to bring in a new style for boys and a new style for girls. The new belt style creative process involves choosing themes for new styles and then refining the artwork after multiple drafts. Next comes color choices and sampling. After some improvements, the final styles are ready to be ordered. "Spring is usually a time to bring in fun patterns, whereas the fall is more focused on the uniform and back to school season," said Owner Talia Goldfarb.
About Myself Belts:
Two sisters, Talia Bahr Goldfarb, a mom and social worker, and Danielle Bahr Eason, a mom and retail industry veteran, joined forces to invent Myself Belts, the belt kids can fasten themselves. For more information and to view the product line, please visit the website at http://www.myselfbelts.com or call 314.863.2358.