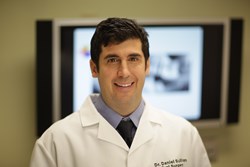 The course is a great opportunity for dentists who want to learn to perform the restorative portion of this treatment.
Warren, NJ and Staten Island, NY (PRWEB) October 01, 2013
Dr. Daniel Sullivan and his partners at Warren Oral Surgery in Warren, N.J., and Paramount Oral Surgery in Staten Island, N.Y., are teaching a course on the All-on-4™ dental implant procedure. The class will take place on Saturday, October 19, at 8 a.m. in the Staten Island office, and is designed for general dentists and prosthodontists who wish to learn about the prosthetic phases of this treatment.
Dr. Sullivan is an expert in the procedure who has lectured extensively on this subject and also published numerous articles. Attendees will receive seven continuing education credits upon completion.
The course will present a live surgery for attendees to learn about All-on-4™ treatment, an advanced surgical procedure providing patients with a new smile in one day. The All-on-4™ concept uses surgical placement of four implants on the upper arch, and four implants on the lower arch. The All-on-4™ procedure is highly advanced and is not performed by many other oral surgeons in New Jersey or New York.
Topics covered will included scientific data supporting tilted implants; complete patient evaluation; clinical and CT scanning evaluation; surgical and prosthetic armamentarium; review of surgical technique; restorative steps; laboratory procedures and steps for the final prosthesis.
The experts at Warren and Paramount Oral Surgery are providing dentists the opportunity to view a live surgery, with a hands-on portion to clearly demonstrate the advantages of the All-on-4™ technique. General dentists and prosthodontists will witness the drastic changes a patient can undergo in one day with the All-on-4™ treatment.
With the All-on-4™ treatment, patients experience numerous benefits. The treatment is quick and requires minimal recovery time. It is a cost-effective solution when compared to single dental implants. Patients' confidence, as well as their ability to chew and eat regular foods, is restored, and the results last a lifetime.
"This course will be a comprehensive learning experience that will include the diagnostic, dental laboratory, and prosthetic phases of the All-on-4™ treatment concept," explains Dr. Daniel Sullivan. "It is a great opportunity for dentists who want to learn to perform the restorative portion of this treatment."
The Paramount Oral Surgery office is located at 201 Edward Curry Avenue, Suite 101, in Staten Island, N.Y. Cost for the full-day event, which includes breakfast, lunch and refreshments, is $595.00.
To register for this event, contact Michelle Procida at michelle(at)warrenoralsurgery(dot)com or 908-222-7922. For additional information, please visit Warren Oral Surgery's website at http://www.warrenoralsurgery.com.