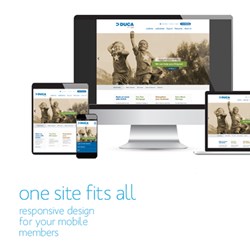 'We wanted to make it incredibly easy for people to engage with DUCA online, whether it was to find a branch, transfer funds, open an account or apply for a loan.'
LETHBRIDGE, Alberta (PRWEB) October 01, 2013
As of September 3, 2013, members of DUCA Financial Services who prefer to browse online from their phone or tablet will no longer need to pinch, zoom and rotate their devices to access the information they're looking for. This is thanks to DUCA's new website - an industry-leading responsive design built by thirdstream that accommodates all screen sizes, from smart phones and tablets to desktops, laptops and television monitors.
DUCA's website launch was strategically aligned with its new brand, a fresh new look and feel developed by Lucidia, an agency based in Sault Ste. Marie, Ontario.
Jeff Coomber, thirdstream's Director of UX Design and the architect of DUCA's new website saw responsive design as the ideal way to bring the elements of brand, user experience and strategy together. He says, 'Our team put a lot of thought into how to design a website that would meet not only DUCA's needs but also the needs of their members. With the rising tide of smart phones and tablets flooding the market and increasing consumer demand for virtual banking services, there was no question that responsive design was the way to go.'
The responsively designed site is also the hub of a powerful multichannel strategy that makes it easy for people to become a DUCA member, open a new account or apply for a loan or mortgage from anywhere, at any time and from any device. This is possible through the integration of the following software, designed by thirdstream specifically for Canadian credit unions: open(up), an online account opening system, cumulus, an online member onboarding and account opening solution, and jump(start),an online loan application.
They can also use thirdstream's 'build(it)' from any device to create a virtual DUCA brochure, pulling content from the site that is most relevant to their needs into a brochure format that they can save, print or share electronically.
Coomber says, 'We wanted to make it incredibly easy for people to engage with DUCA online, whether it was to find a branch, transfer funds, open an account or apply for a loan. We applied personification and UX (user experience) design principles to create a simple and intuitive user experience that makes it easy for members and potential members to achieve their goals from their computers, smart phones or touch screen devices.'
View the new DUCA site at duca.com.
About thirdstream
thirdstream is an award-winning digital design and software development firm headquartered in Lethbridge, Alberta and with offices in Ontario and Manitoba. thirdstream is 100% Canadian-owned and operated and the only digital marketing and software development agency in the country exclusively dedicated to credit unions. For more information, call 403-381-1360 or visit them online at thirdstream.ca.