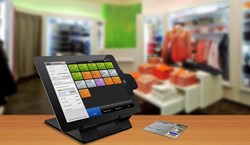 Industry, CA (PRWEB) October 01, 2013
US Bankcard Services, Inc. offers its merchants the iPad™ POS system, a convenient and easy to use innovation in credit card processing technology.
US Bankcard Services, Inc. (USBSI) is proud to introduce to its merchants the iPad™ POS system. The iPad™ POS is a cloud based POS software application designed to help small to medium-sized retail or restaurant merchants connect with their customers. In addition, it provides merchants with valuable information to help them better understand and manage their business.
The iPad™ POS system is available for USBSI merchants who own an iPad™ and process their credit card transactions through Elavon. It is compatible with any version of the iPad™ and the merchant can begin accepting credit cards with their system if they have access to a WiFi connection or a 3G data plan. The system is easy to set up and user friendly. Merchants can use the iPad™ POS system to accept cash and credit cards amongst a number of payment options, as well as email and print receipts. All credit card transactions are encrypted and no card data is stored on the app, making it PA-DSS compliant.
Merchant data from the iPad™ POS system is stored on the cloud and accessible from anywhere with an internet connection, so merchants can see sales and ticket information in real time, all the time. The iPad™ POS system can capture customer contact information at the point of purchase, which allows the merchant to track a customer's last visit, average spending, and total visits, making it easy to determine customer loyalty and run their business at the same time. Merchants can view and manage inventory on the web or iPad. They can also print daily summaries, as well as top seller and top categories reports, time sheets, and voided items reports to help them to give them insights and recommendations to improve sales.
USBSI has always provided its merchants with the newest and best in credit card processing technology. The iPad™ POS system is mobile, efficient, secure, and easy to use. Its intuitive interface and convenience factor is why USBSI is proud to offer this innovative product to its merchants.
About US Bankcard Services, Inc.
US Bankcard Services, Inc. is a top rated MSP that offers competitive rates, incredible customer service support, and cutting edge technology in credit card processing service. USBSI offers a wide array of value-added services, including POS system, QuickDining.com (QD) restaurant e-commerce, gift card services, check guarantee, PCI–DSS compliance consultancy, 24-7 multilingual customer service and technical support. US Bankcard Services, Inc. is a registered MSP/ ISO of Elavon, Inc. Georgia.
For more information about merchant bankcard services please visit us at http://www.usbsi.com or call us at: 1-888-525-8558.