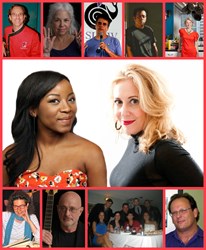 "The performers were warming up for a bill of jazz, blues, rock and folk, part of a pop-up series organized by Moscow 57, an entertainment and catering group with a wide and eclectic circle of artist friends." - The New York Times
New York, NY (PRWEB) October 05, 2013
Moscow 57, the New York-based hospitality and entertainment company, will be making its third trip to New Orleans for three special events the week of October 7th. On Monday, October 7th, they will be popping up at L'Entrepot in the warehouse district to celebrate the first anniversary of Slow Food New Orleans, on Tuesday, October 8th, they will pop up as a part of ¿Que Pasa? Fest, participating in ¿Que Pasa? Fest's Opening Act at Chilangos Seafood Restaurant in Kenner, LA, and on October 9th, Moscow 57 joins Slow Food New Orleans to collaborate on food for a pot luck dinner for the Greater New Orleans Youth Orchestras.
The Slow Food NOLA 1st -Year Anniversary Party, featuring the NYC M57 Urban Salon, will take place at L'Entrepot, 527 Julia Street, on Monday, October 7th from 6-9pm. Ellen Kaye, M57 CEO, will be performing and hosting, and the evening will feature NYC singer/songwriter Kayte Grace's EP Release for "Set Fire to Separate Lives." The event will also feature a digital display by local visual artist Emilie Rhys and NYC sculptor Oscar Garcia. The featured author will be Elsa Hahne, with her book The Gravy: In the Kitchen with New Orleans Musicians. Moscow 57 Chef Seth Goldman will be collaborating with Slow Food New Orleans and Café Hope. The event is sponsored by Carmo Tropical Café and will benefit Slow Food New Orleans and the New Orleans Musicians Assistance Foundation.
On Tuesday, October 8th, Moscow 57 joins ¿Que Pasa? Fest's Opening Act at Chilangos Seafood Restaurant, 3617 Williams Blvd, Kenner at 8:00pm. ¿Que Pasa? Fest (an extension of the Latin cultural TV show) is celebrating Hispanic Heritage Month with exciting Latin music and other aspects of Hispanic heritage and culture. Moscow 57 Chef Seth Goldman will be collaborating with Chilangos Seafood, Slow Food New Orleans and Café Hope adding some Russian Central Asian flavor to New Orleans-style cooking.
On Wednesday, October 9th M57 Chef Seth Goldman and Gary Granata of Slow Food New Orleans will again collaborate, as they did in March of this year, to create a fusion dish of their two styles of cooking to create a "Borschtalaya," a jambalaya with Russian Central Asian accents at the Greater New Orleans Youth Orchestras' Pot Luck Dinner, following a concert. This event is scheduled from 4:30pm - 6:30pm. It is sponsored by the New Orleans Musicians Assistance Foundation.
For more information about these events, call Moscow 57 at 646-584-2387 or the organizations directly. (See links and additional information below.)
About The Artists
Kayte Grace: NYC Singer/Songwriter
Kayte Grace is a singer/songwriter based out of New York City who has a signature blend of folk, blues, pop and rock, expressed by warm-voiced, lilting melodies with rich, resonant lyrics. Kayte has garnered national attention with three albums under her belt. She is featured in The Washington Post, on YouTube, NBC and ABC in Georgia, in the Ivy League Christian Observer and in Washington Magazine. She has played nearly two hundred shows in nineteen states, including performances during SXSW at Red Gorilla Music Fest (Austin, TX), opening for the Gabe Dixon Band and Leila Broussard from The Voice. Kayte has acted professionally for over fifteen years, landing roles in commercials and television shows: Law & Order: SVU, HBO's The Wire and Gossip Girl. Now she is releasing the first EP of her new project called Set Fire to Separate Lives funded by an IndieGoGo campaign. http://www.kaytegracemusic.com/
Elsa Hahne: NOLA Author
Special guest author Elsa Hahne is the author of "The Gravy--In the Kitchen with New Orleans Musicians" (High ISO Music 2013) and "You Are Where You Eat--Stories and Recipes from the Neighborhoods of New Orleans" (University Press of Mississippi, 2008), which was supported by the Louisiana Endowment for the Humanities and the New Orleans Jazz & Heritage Festival and Foundation, Inc. She is the Art Director and Food Editor of OffBeat, New Orleans' premier music magazine, and a journalist by trade. Her writing and photography have appeared in numerous international magazines and newspapers, including "Time" and "New York Magazine." Elsa Hahne has won several New Orleans Press Club awards for her photography and design, including two for Best Cover, and the Hal Ledet Award for Print Photography. Originally from Sweden, Elsa Hahne has lived in New Orleans since 2002.
Emilie Rhys: New Orleans Visual Artist
Emilie Rhys is a third-generation painter. Her grandmother was Gladys Rockmore Davis and she is the daughter of Noel Rockmore. Rockmore is well known for painting more than 800 portraits of the musicians of Preservation Jazz Hall. Emilie has been painting for more than 30 years, and now regularly sketches the musicians working in New Orleans today. She was always a painter first, but in the past two years, drawing has taken precedence and, happily, a sketchpad is well suited to the environment of music clubs. She says, "I am moved by music and I admire musicians more than anything in the world. That is what propels me to show up and once there, I can no more not draw than not breathe. Everything is moving, in flux, and yet I see details and the whole scene at times in snapshots which, I suppose, forces me to capture the image in bursts. Every drawing is an amalgam of moments observed and experienced during the evening. And of course, the rhythm of the music influences the patterns of pen strokes."
Oscar Garcia: NYC-based Sculptor
Oscar Garcia was born in Lima Peru, though his family is from Cajamarca in the northwest mountainous region. Along with his Pre-Columbian ancestry Oscar's childhood was immersed in the culture, language and agriculture of the Inca civilization. The Quechuan term "Pacha Mama" refers to the bountiful mother earth caring for her children; and Oscar was taught that nature is generous in providing the natural resources for us to cultivate the land and bring economic prosperity to enrich the people. This can be seen in the Moray Salt Mines of Urubamba and the Andean terraces excavated into the mountain side. http://artistoscargarcia.com/AOG/commission.html
Ellen Kaye: Nightclub Singer/Host/Entrepreneur
Ellen Kaye is known for her gutsy hybrid of blues, jazz, rock and folk - laying her own bold spin on classic tunes. Ellen Kaye has been appearing regularly at noted jazz club The Iridium Jazz Club and The Metropolitan Room. Ellen was invited to sing at the Metro New York chapter of UN Women Luncheon in the Delegates' Dining Room at the United Nations in March 2012.
Drawing her material from the best songwriters of the 20th and 21st centuries, Ellen makes the classics contemporary while indulging her Tom Waits addiction, reveling in some Dar Williams and Rickie Lee Jones, luxuriating in Annie Lennox, commiserating with Randy Newman's world view, and getting lost in the blues. She isn't opposed to the classic American Songbook either and, as always, she gives it the unique Kaye spin. http://www.moscow57.com/ekmusic.html
Seth Goldman: Moscow 57 Chef and COO
Seth Goldman is Moscow 57's Chef and COO. For the company's M57 Pop-Ups, he has grilled kebabs in East Harlem under the elevated train tracks of Metro-North Railroad for Moscow 57 Under the Tracks, made bite-sized blini with caviar for pop-ups in the Theater District and Chelsea, created sandwiches for a Governors Island pop-up, and steamed mounds of sour cherry-saffron rice when they popped up in New Orleans. Since training as a chef at the International Culinary Center, in addition to cooking in restaurants in New York City and beyond, Seth has been a private chef, caterer and events consultant and owned a restaurant in Port Jervis, NY.
About The Organizations:
Slow Food New Orleans pursues the international mission of striving for good, clean and fair food for everybody. It believes everyone has the right to food that tastes good, is safe, clean and regionally grown. The new chapter's leadership includes Gary Granata, Chair; Don Boyd of Café Hope, Co-Chair; Cheryl Golich of Balance Yoga & Wellness, Treasurer; consultant Tess Monaghan, Secretary; and Christina Murphy of La Divina Gelatera, Membership Chair.
Gary Granata, PhD, RD, LDN. Gary's approach to food combines his southern roots and passion for all things New Orleans, his home for the past 13 years. He is a New Orleans-based nutrition and exercise scientist, cook, gardener, teacher & writer. Presently Gary serves as the Chair for Slow Food New Orleans.
The New Orleans Musicians Assistance Foundation (NOMAF) evolved from the New Orleans Musicians' Clinic following Hurricane Katrina in 2005 to expand its mission and promise to keep New Orleans music alive by sustaining New Orleans' traditional music cultures through their Gig Fund and Emergency Fund.
Since 1998, the New Orleans Musicians' Clinic (NOMC) has been dedicated to keeping New Orleans' performers alive in body, mind, and spirit by providing comprehensive health care and mental health/social services. As the "medical home" for more than 2,000 local musicians and tradition bearers, the NOMC's Culture of Caring Model provides cost-efficient access to high quality healthcare and wellness programs for their patients, regardless of their ability to pay.
Café Hope works with at-risk youth to offer a path to self-sufficiency through hospitality job training, life skills training and job placement with work place advocate support. Café Hope strongly embraces the slow food movement with a sustainable menu that can trace its food to the roots.
Don Boyd is a native of New Orleans with roots that run deep going back a few generations. For Don, growing up in Plaquemines Parish along the Mississippi River, slow food was a way of life.
About a decade ago, Don decided to parlay his professional knowledge into social entrepreneurial projects, first with Café Reconcile New Orleans and in 2009 he co-founded Café Hope. Don was a proud recipient of the 2006 James Beard Legacy Chef of New Orleans Award. Locally, he is a past recipient of the United Way's Jamie Shannon Community Service Award.
¿Que Pasa? Fest
Cervantes Fundación Hispanoamericana de Arte
(Cervantes Hispanic-American Arts Foundation) and Hispanic Flavor Productions announce the Third Annual ¿Que Pasa? Fest 2013 set to take place in the Greater New Orleans area from October 8-13, 2013. With the support of several other sponsors and local non-profit organizations, this festival will be an extension of the Latin cultural television show. television show, ¿Que Pasa New Orleans? Celebrating Hispanic Heritage Month and highlighting exciting Latin music and Hispanic heritage and culture in Louisiana.
¿Que Pasa? Fest was developed by Cervantes Fundación Hispanoamericana de Arte with the mission to promote modern and classical Hispanic arts and cultural traditions following in the footsteps of the popular Latin cultural television show ¿Que Pasa New Orleans?. It includes music, dance, literature, fine arts and culinary arts, among other components. Cervantes has had a major impact in the Hispanic community and the Louisiana community in general throughout the years and now more than ever with its annual ¿Que Pasa? Fest during Hispanic Heritage Month. The fest is FREE and open to anyone who wishes to join in during the celebration. Many local and guest artists contribute throughout the Fest with their talents to entertain the festival goers.
Greater New Orleans Youth Orchestras
The Greater New Orleans Youth Orchestras (GNOYO) has been recognized both locally and nationally for its commitment to music education. Now in its sixteenth season, GNOYO provides young musicians the opportunity to participate in a high-quality full orchestra program. Participants significantly improve individual performance and ensemble skills, while developing professional attitudes and discipline, which empower them to take initiative in their schools and community and to pursue individual and team excellence in all life endeavors. GNOYO's exciting concerts include music ranging from Stravinsky's Firebird Suite and Tchaikovsky's 1812 Overture to John Williams' Jurassic Park.
About The Venues:
Carmo is a tropical café built upon the rich, multi-cultural culinary influences found throughout the Caribbean, Central and South America, Gulf South, and beyond. West Africa meets Europe meets Latin America meets Southeast Asia in dishes that feature top-quality, local ingredients, as well as exotic products from around the globe. Juice of cacau (the chocolate plant), red palm oil, dried pounded manioc root, specialty peppers and unique meats and cheeses are just a few items which help define this comfortably traditional-yet-innovative cuisine.
Situated in the heart of New Orleans' Arts District, L'Entrepot is a neighborhood creative arts space which houses art galleries, creative studios, catering kitchen, tropical restaurant/cafe, solarium and more. Opened in 2010, the open, light-filled building maintains a sophisticated-yet-friendly vibe, encouraging visitors to make themselves at home and move about the space, interacting with the participants in the café and studios, as well as the resident border collies. A substantial part of L'Entrepot's mission is to nurture community involvement and interaction. Recently it hosted benefit events for New Orleans Aids Task Force, Artfully Aware and New Orleans Food Co-op in its main gallery, which is comprised of 1600 square feet with 30 foot vaulted ceilings and large sliding wall panels which allow for a variable layout.
About Moscow 57:
Moscow 57 is making New Orleans part of its regular migratory pattern. It all began when Slow Food New Orleans chair Gary Granata was in New York. He was walking through East Harlem and heard the music coming from the Urban Garden Center (UCG), where Moscow 57 was holding its M57 Urban Salon - M57 Under The Tracks, a food and music event that was held weekly at the UCG, under the elevated commuter rail tracks that run to Grand Central Station. A few weeks later, M57 invited Gary back to NYC to cook up his New Orleans fare alongside Moscow 57 chef Seth Goldman. Moscow 57 returned to the Big Easy in March of this year, collaborating with Slow Food New Orleans, Café Hope and La Divina Gelateria for a pop up at Grow Dat Youth Farm, and for a "Tradition Bearers" luncheon at the New Orleans Musicians Assistance Foundation.
From Harlem to New Orleans, Moscow 57 offers Russian Central Asian food from a New Yorker's perspective with great live music. Founder Ellen Kaye, whose family owned The Russian Tea Room from 1947-1996, and partners Seth Goldman and Ethan Fein created Moscow 57 Entertaining - a hospitality and entertainment company encompassing a catering company, a mini music label and a film/theater production company - on the road to the fall debut of Moscow 57 on Delancey, the bricks-and-mortar restaurant with live music at 168-1/2 Delancey Street on the Lower East Side in NYC. For the past two years, Moscow 57 has been creating M57 Urban Salons, evenings of music, food and digital visual art displays in locations in Harlem, Chelsea, the Upper East Side, Governors Island, and Bridgehampton.
Hear Kayte Grace on the M57 On Air Urban Salon Podcast Episode 1: http://moscow57.com/radio.html
For more information about Slow Food New Orleans: http://www.slowfoodnola.com/
For more information about Café Hope: http://www.cafehope.org/
For more information about Carmo and L'Entrepot: http://cafecarmo.com/ http://www.lentrepotnola.com/
For more information about ¿Que Pasa? Fest: http://www.quepasaneworleans.com
For more information about Greater New Orleans Youth Orchestras: http://www.gnoyo.org/
For more information about the New Orleans Musicians Assistance Foundation: http://nomaf.org/
For more information about Moscow 57 and all of its happenings, please go to the M57 Blog http://moscow57blog.wordpress.com/ or to the Moscow 57 website http://www.moscow57.com.