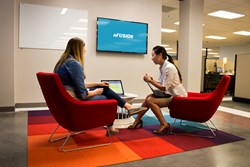 The new space allows for purposeful and serendipitous collisions of nFusion's multi-talented team of specialists, breaking down silos and encouraging cross-discipline collaboration.
Austin, TX (PRWEB) October 04, 2013
Digital-centric marketing agency nFusion opened the doors to its new headquarters in Austin this week. As nFusion's clients have embraced the agency's unique approach to integrated marketing, the need for a revamped space in which to work was paramount. The new offices were designed by STG and feature an open work environment that lends itself to effective, team-oriented, cross-discipline collaborations.
"The new office space is intentionally designed to allow for purposeful as well as serendipitous collisions of our various specialties, which will aid in planning, executing and measuring campaigns that integrate paid, owned and earned media activities," said nFusion CEO John Ellett.
The new nFusion HQ boasts connected workspaces and purposefully designed Collaboration Stations — mini meeting areas for brainstorming, project updates or to give team members a place to park for a change of scenery.
"We continuously counsel our clients to break down silos and think across all media: paid, owned and earned, online and offline, continued Ellett. "This new space ensures we are practicing what we preach."
New Space, New Amenities, Same nFusion Culture
The new space has been fitted with Samsung flat-panel business displays and SMART TVs, which adorn the walls of meeting spaces from the largest to the most intimate. Samsung is one of nFusion's longest-served clients.
The Samsung Smart TV 8000 in the kitchen has been installed not only to be used by team members during breaks but also on which to develop and present campaign and design concepts.
Keeping with nFusion tradition, conference rooms and collaboration spaces have been christened with Austin-centric names. Where the old office meeting rooms were named after breakfast tacos — still served at all Monday morning team meetings — the new space will feature rooms named after beloved Austin venues like Liberty Lunch, Studio 6A (the old Austin City Limits studio), The Backroom, Momo's and Armadillo World Headquarters.
How To Find The New nFusion HQ
nFusion's new headquarters are located at River Place at the edge of the beautiful Texas Hill Country, with panoramic views to the south and the west. The new address is: 6500 River Place Blvd, Bldg 2, Suite 201, Austin, TX 78730. All nFusion phone numbers have remained the same.
About nFusion
nFusion is a digital-centric marketing agency that partners with marketing change agents to revitalize brands, transform a company's digital presence and accelerate sales. With an agile and collaborative approach, nFusion's team of multi-disciplinary specialists helps brands maximize the effectiveness of paid, owned and earned media, so marketers can make an immediate and measurable impact. Headquartered in Austin, Texas, nFusion's B2B and B2C clients include AMD, Anheuser-Busch/InBev, CiCi's Pizza, Comerica Bank, Samsung, SanDisk, Sonus Networks, Rush Enterprises and Zimmer Spine. nFusion can be found online at nfusion.com, and on LinkedIn, Facebook and Twitter.