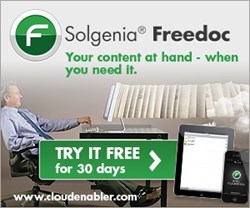 Mississauga, Ontario (PRWEB) October 15, 2013
Solgenia, a leading cloud enabling company, is pleased to announce Crown Mats and Matting as a new client with their purchase of a Freedoc document management solution.
Ludlow Corporation was going through the certification process for ISO 9001, a global quality management benchmark currently adopted by over a million companies in 176 countries. Achieving the ISO 9001 standard is a serious process involving organization-wide assessment, multiple participants and an ongoing exchange of key related documents. To enable efficient and effective management—and ultimately to help ensure successful certification—Ludlow needed a document management solution specifically dedicated to organizing and centralizing access to all project-related documents.
Attracted by Freedoc's combination of ease-of-use, low cost and superior functionality, the company invested in a Freedoc server with licences for 20 concurrent, on-premise users. With Solgenia providing initial remote implementation, document migration and user/administrator training services, Ludlow now has Freedoc as a central, shared repository for all ISO 9001 certification-related documents, with user permissions extended only to those specifically involved in the process.
"We are pleased and excited to have Ludlow Corporation on board as a Freedoc customer," remarks Solgenia CEO Bob Binns. "In today's information-enriched, document-heavy business environments, solutions like Freedoc are a necessity. A process like ISO 9001 certification can be a challenging, intense time for many companies. Worrying about whether document foul-ups were going to derail the process was the last thing they needed."
"With Freedoc's simple, centralized sharing and features like check-out/check-in, version control, search and permissions, Ludlow's document management needs have been satisfied," continues Binns. "We look forward to building our relationship with the group and to helping them get the most out of Freedoc's tremendous productivity potential."
About Ludlow Composites Corporation
Ludlow Composites has over 60 years of experience creating PVC and Latex foam solutions for customers around the world. We are dedicated to creating a partnership with our customers in order to develop materials that meet and exceed our customer's needs. Ludlow is the winner of Ohio's Small-Medium Exporter of the Year Award (2009)
Ludlow Composites services our customers and markets with two distinct divisions, Industrial Foam and Crown Mats.
About Solgenia
Solgenia is a leading Cloud enabling company that assists organizations in accelerating business benefits to increase productivity, reduce costs, and deliver more value to their respective customers. As a Cloud enabler, Solgenia is specialized in providing Platform Infrastructure, Business and Collaboration Apps for the Cloud Ecosystem. The company has a direct presence in the USA, Canada, Italy and Mexico and maintains a reseller network of more than 400 partners all over the world.
Contact – Ludlow Composites Corporation | Crown Mats and Matting
Robert Critchet
Technology Director
rcritchet(at)ludlow-comp(dot)com
http://www.ludlow-comp.com
http://www.crown-mats.com
1.419.332.5531
Contact – Solgenia
http://www.cloudenabler.com
na(dot)marketing(at)solgenia(dot)com
1.866.436.3278
1.647.883.0285