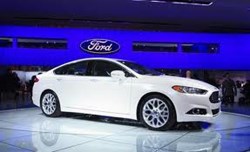 a relatively minor electronic engine sensor can run $350- $400...there could be dozens of these components in the vehicle.
Barkhamsted, CT (PRWEB) October 01, 2013
The combination of sophistication and new technology in cars and trucks today is a cause of concern to the average driver when thinking about possible future repair costs. What will it cost to repair the vehicle if one of the hi-tech items fails beyond the factory warranty period? Their concern is quite reasonable, Ford ESP is the solution; being the official Ford extended service warranty.
Nearly every repair category of an automobile now includes some sort of electronically-controlled or computerized system including the engine, transmission, heating and air conditioning, brakes, suspension, steering and safety systems. There are new safety features being added each year; some recent ones include: Collision Avoidance, Cross Traffic Alert, Lane Departure Warning, Automatic Park Assist, Rear Sensing and Rear Camera systems. It is easy to see how advanced the vehicles of today have become as well as the technical expertise needed to repair them.
The question is how costly will it be to make repairs to these vehicles outside of the factory basic warranty? Consider if the average labor rate for mechanical repairs is about $100/hour- it doesn't take much to run up a significant repair bill. In fact, the repair cost of a relatively minor electronic engine sensor can run $350- $400. Keep in mind that there could be dozens of these components in the vehicle.
The primary reason to purchase an extended warranty is for peace of mind. Should something breakdown on the vehicle the consumer wants to know that the coverage they purchased will pay the cost for these future repairs. It is very important to understand exactly what components are covered by a plan when selecting which protection is right for an individual's specific needs.
TIP # 1 – Buy the level of protection that provides peace of mind
The Ford ESP product, which provides the highest level of vehicle protection, is PremiumCare. This plan covers more than 1,000 key components on the vehicle and is the one that comes nearest in coverage to the basic factory warranty. Premiumcare is an exclusionary type of protection plan. It will cover the entire vehicle except for the small list of items that are excluded which consists mainly of routine maintenance items, cleanings and adjustments, interior trim panels and ornamentation, glass, tires, exterior body and structural framework, plus a few other items. This plan level is chosen by most consumers because of the comprehensive coverage it provides, especially for all the electronics and it is the only level which will cover the fancy factory options like SYNC, MyTouch, Navigation and Entertainment systems—offering the most peace of mind.
The other levels of Ford ESP coverage are ExtraCare which covers 113 items, BaseCare which covers 84 items and PowertrainCare which covers 29 items. These plans are called stated component plans meaning they will cover only the items stated on the covered list. If the consumer is only concerned with a basic general level of protection, they should consider Basecare. If they desire coverage on items such as power window motors, power seat motors, electronic instrument cluster or the automatic temperature control panel, then Extracare is the level where coverage for these items begins.
Tip # 2 - Don't buy more miles than needed within the coverage time period selected
Once the level of coverage has been decided upon, there are two important questions to answer. How many years of protection are desired? And, how many miles per year will the vehicle be driven on average? This information is used to configure which Ford ESP extended warranty, time and mileage term of coverage will provide the best value for the money.
For example: On a brand new 2013 Fusion 2wd, someone who averages about 10,000 miles of driving per year and desires 6 years of protection, should select a 6 year / 60,000 mile plan term of coverage to get the best value. However, many times a consumer will choose the most miles available such as up to 100,000 miles or 125,000 miles, but doing this can be very costly when those miles are not needed and it doesn't provide any better protection.
In the example above, doing that would cost an additional $440 or $760 for the same 6 year period. This would be money wasted because based on the average driving per year, the vehicle wouldn't come close to the 100,000 or 125,000 mile expiration before the plan expired time wise.
The ESP Sales and Support Team at Lombard Ford will answer any questions and provide plan quotes for coverage. To contact them, call 1-866-379-7095.
About Lombard Ford, Inc.:
Lombard Ford, Inc. is an annual award winning Ford dealer in Northwestern, CT since 1982. Their Internet ESP office is staffed with courteous and knowledgeable personnel who have first hand working experience in, automotive service advising and service management, new and used vehicle sales, vehicle sales management, finance and insurance sales and customer service and sales support. For more information, visit http://www.lombardfordwarrantys.com.