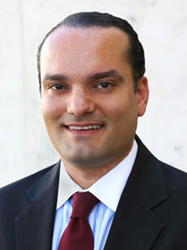 My patients undergo life-changing procedures, so making sure they are in the best possible care is always my biggest concern.
Beverly Hills, CA (PRWEB) October 29, 2013
Dr. Samuel Kashani, a board-certified general and bariatric surgeon in Los Angeles at La Peer Health Systems, has been honored as a Patients' Choice Award recipient. Given to a select number of America's favorite doctors, Dr. Kashani was commended for his exemplary work and the difference he is making in the lives of his patients.
"My patients undergo life-changing procedures, so making sure they are in the best possible care is always my biggest concern," said Dr. Kashani, who specializes in weight-loss surgery, such as the gastric sleeve and gastric bypass procedures. "I'm so grateful that my patients are happy with the services I have provided them."
The Patients' Choice Award is given to doctors who received rave reviews for their work and dedication in their medical field. As the honor roll of America's favorite doctors, this honor is bestowed on doctors by their patients. In 2013 alone, more than 200,000 patients across America provided reviews and feedback regarding their personal treatment and experiences with their doctors.
Dr. Kashani scored high marks in the categories of bedside manner, doctor-patient face time, follow-up care, office staff's courtesy and overall patient opinion. Of the 830,000 doctors currently practicing in the U.S., just 5 percent received the Patients' Choice Award in 2012. As part of this honor, recipients are included on the Patients' Choice website, a resource in which patients can locate physicians providing quality care.
"My passion is helping patients better their lives, resulting in higher self-confidence and overall good health," said Dr. Kashani. "The fact that my patients feel I have helped them accomplish these goals is an incredibly moving experience."
Samuel Kashani, MD is board-certified in general and bariatric surgery by the American Board of Surgery. As a member of La Peer Health Systems' bariatric team, Dr. Kashani's main bariatric (weight-loss) surgery specialties include the lap band, gastric bypass, and sleeve gastrectomy procedures. In addition to bariatric procedures, Dr. Kashani is also an expert in the field of general surgery, specializing in advanced laparoscopic procedures including hernia, gallbladder and cancer surgeries.
Dr. Kashani graduated with his Doctor of Medicine and Master of Science (Applied Physiology) degrees at Rosalind Franklin University in Chicago in 2002. He then completed an internship and residency in General Surgery at the University of California, San Francisco's (UCSF) East Bay Surgery Program. He also completed a fellowship in Minimally Invasive, Advanced Laparoscopic, and Bariatric Surgery at Cedars-Sinai Medical Center in Los Angeles, CA.
La Peer Health Systems is an outpatient surgery center in Beverly Hills, founded by doctors and focused on providing excellent patient care alongside the most cutting-edge medical treatments available. With 50 world-renowned physicians in 14 specialties, comprehensive medical treatment is offered that takes patients from consultation to diagnosis, treatment, surgery, and ultimately aftercare. The 14 medical departments include orthopedics & sports medicine, gastroenterology, head & neck surgery, colorectal & general surgery, podiatry, ophthalmology, pain management, plastics & reconstructive surgery, gynecology, spine surgery, interventional cardiology, bariatric surgery, thoracic surgery, and anesthesiology. Unlike large hospitals, La Peer's unique structure offers extremely personal care in a safe and controlled environment.
To learn more about La Peer Health Systems, visit http://www.lapeerhealth.com.