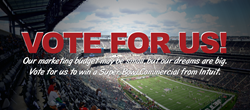 We may be a small company, but we have big dreams!
Cleveland, OH (PRWEB) October 03, 2013
Laugh Staff is pleased to announce that they have advanced to the next round of the Intuit Small Business Big Game contest for the chance to win a commercial to be aired during Super Bowl 2014.
Laugh Staff continues to need daily votes from their supporters to advance to the third round. However, making it to the second round has allowed Laugh Staff to post more about why their company should earn a commercial in the Super Bowl. In addition to more coverage on the Intuit website, Laugh Staff will be completing challenges in order to proceed to Round Three.
"We are thankful to all of our supporters who voted for Laugh Staff," said co-founder Cameron Amigo. "So many people have helped spread the word by sharing it on Facebook & Twitter and we really appreciate their help. We're a Cleveland company and are very proud of that; we're excited to be represent the City."
Laugh Staff is comprised of a team of professional writers and comedians, some of whom have written for The Daily Show with Jon Stewart and Saturday Night Live's Weekend Update. This is a unique team of people who have performed in front of every demographic in varying states of inebriation. They understand what gets a laugh and they know how to structure a speech to get a positive reaction.
The two goals of Laugh Staff are to craft funny best man and maid of honor speeches and to help their clients with the number one fear: public speaking. Laugh Staff is pleased to advance in the Intuit Small Business Big Game contest, but continues to need votes and support to get to the next round and win a commercial during Super Bowl 2014.
For more information about Laugh Staff, Inc. visit http://www.laughstaff.com, call 740-706-6690 or email info(at)laughstaff(dot)com.
About Laugh Staff, Inc:
Laugh Staff, Inc. was founded in 2012 by a team of comedians and writers in Cleveland, Ohio. Laugh Staff helps their clients with best man speeches as well as providing best man speech examples on their blog. They assist best men and maids of honor in speech-editing, speech writing, and provide training on speech delivery. Recognizing the importance of the big day, Laugh Staff's professional comedians work with best men and maids of honor to ensure they make a lasting impression.