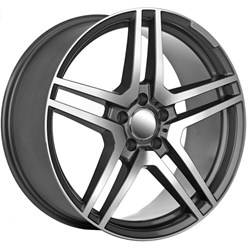 buyers of recent luxury sedans might balk at the $140,425 base price and Mercedes-Benz owners may want to take a look at upgrading their current models instead
San Diego, CA (PRWEB) October 02, 2013
UsaRim has announced it is offering existing Mercedes-Benz owners new ways to update the look of their vehicles if they do not want to spend the $100,000 or more that recently announced performance models like the 2014 S63 AMG can cost. They include a full line of the latest replica AMG wheels available at UsaRim.com.
The most popular upgrades for existing Mercedes Benz vehicles include wheels and tires, AMG being the brand of choice for Benz enthusiasts. Upgrading to replica AMG wheels for a new look and better performance is easier and cheaper than ever with next-day shipping and prices as low as $95 per wheel.
At UsaRim, dozens of wheel options are available for Mercedes-Benz and other luxury vehicles. Based in San Diego where buyers can get wheels installed by experienced mechanics, the company also offers competitive shipping rates throughout the country. And while the new look can add a nice touch to the sleek lines of a high-end sedan, replica AMG wheels can also help with performance. New wheels can improve handling by reducing unsprung weight.
Each wheel is connected to the suspension and damping systems, which help keep the tires on the road but also smooth out any bumps. The term "unsprung" means that the combined weight of the wheel and tire react to the road independently of the suspension. In that case, heavier wheels will transmit road imperfections to the driver and make it uncomfortable on rough surfaces. On the performance side, the weight of the car will help keep the tire mounted on a lighter wheel on the road surface more easily.
Carrying on the tradition of high performance and ultra luxury, Mercedes-Benz engineers working on the 2014 S63 AMG made a number of improvements to the stock wheels for this model, including a dual-color finish with black and machined accents and a staggered setup with a full inch more width in the rear. However, buyers who are interested in improving the handling and look of their Mercedes Benz vehicles do not have to spend $140,425 on the new S63 or other models to realize the benefits that AMG style wheels can offer.
–---
About UsaRim.com
UsaRim offers wheels to fit nearly every make and model of vehicle for consumers across the country. Southern California buyers can see our offerings in person at our San Diego showroom at 8925 Caroll Way, Suites C and D, Monday through Friday from 8 a.m. to 5 p.m.