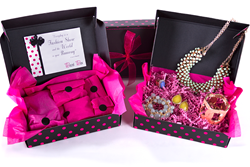 Part of the fun is being surprised and excited when you open your box.
Las Vegas, NV (PRWEB) October 01, 2013
A new jewelry subscription box service is making waves by giving its customers what they want and its working. Bezel Box a web-based personal shopper of sorts, is playing the role of personal jewelry stylist by helping subscribers find the latest on-trend accessories and delivering them to their door on a monthly basis. For those who want jewelry that is fashion forward but don't want to pay the exuberant prices or simply don't have the time to shop for those out of the way boutiques, this online stylist is helping them look stunning while bearing the brunt of the labor in finding the accessories. Bezel Box can help any busy businesswoman, student, mom or someone just in the need of some retail therapy feel like a fashionista.
There are a few things that set Bezel Box ahead of the pack. First with Bezel Box they give you more for your money. The Bezel Box Subscription gives you the most amount of jewelry (4-5 pieces) each month out of all its competitors. The company doesn't limit the amount of jewelry customers will receive based on shipping prices. In addition, the style of the jewelry is always chic and very trendy. It should also be noted that the company takes customer service very serious. "We treat customers how we want to be treated. We're tired of giant companies taking our money and giving us poor service. That business model has to change and we're going to show them that's what people want," says Sherree, a founder of Bezel Box.
Anyone who is a shopping procrastinator, has a busy life or just an eye for style will thank Bezel Box as the shopping will be been done for them. Bezel Box has put in the time and research on what trends spike and if it's on the upswing. The company has researched, tested, and sorted through enormous amounts of products to find jewelry that is of high quality and design for its box.
Each month the jewelry is hand-wrapped and packed into a signature Bezel Box. The trademark pink poka-dots on the sleek black box makes it unmistakable. Inside each box they've added a personal touch with a quote card that provides inspirational quotes from the fashion industry's icons. Every month it is a surprise as to what jewelry you will receive. "Part of the fun is being surprised and excited when you open your box," explains Sherree. "We want you to be able to get your hands on an array of jewelry that may be anything from contemporary to boho-chic," she adds.
--more--
Whether shoppers want to discover new trends, experience the rush of opening a present each month or just want to have their own personal jewelry stylist, Bezel Box is a fun experience from a company that sincerely cares about its customers. The jewelry is lead and nickel free which the company explains the importance of on its blog. Bezel Box takes the jewelry subscription game to the next level and gives its shoppers something to be excited about every month.
About Bezel Box
Bezel Box is a jewelry boutique offering a personalized stylist to source on-trend and ultra-modern accessories that are on the forefront of fashion. Subscribers receive 4-5 select jewelry accessories each month that are delivered to their door. Bezel Box was founded in 2013 to create an avenue that caters to women with busy lives and an eye for style who want to discover the latest fashionable jewelry. Bezel Box is based in Las Vegas, Nevada and is available to consumers on-line. Shoppers can order a Bezel Box Subscription for $29.97 or a Bezel Box Mini for $19.97, both of which currently ship to the U.S. and Canada.
For more information on Bezel Box or to schedule an interview, representatives of the news media can contact Sherree at 702.664.0071, contact(at)bezelbox(dot)com, or visit Bezel Box at http://www.bezelbox.com.