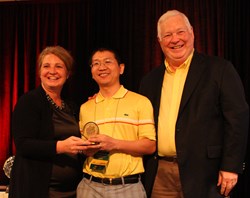 It was a totally new training experience for China Minsheng Banking Corporation.
Minneapolis, MN (PRWEB) October 01, 2013
Xinliang "Robert" Zhao, the assistant director of the wealth management division at China Minsheng Banking Corp., in Beijing, recently received the Pike's Peak Performance Award for his company's adoption and successful implementation of participant-centered training.
In 2012, Zhao was tasked with training other product managers despite his lack of training experience. The assistant director of the Wealth Management Division eventually found his way to The Bob Pike Group and its participant-centered methods. After attending a train-the-trainer Boot Camp with TBPG, Zhao then sent eight of his product managers to the workshop. The nine of them then applied these training techniques to mutual fund sales training.
"It was a totally new training experience for China Minsheng Banking Corp.," said nominator Jason Shi, training director at Promo Consulting Co., Ltd. After the training, the bank's share of mutual fund sales in the country increased from 20 percent to 30 percent and brought in about $1 million U.S. in additional commission.
The Pike's Peak Performance Award is a formal recognition of trainers or organizations who have transformed their training by implementing participant-centered, results-based techniques championed by Bob Pike. These techniques involve participants in their own learning instead of relying on an instructor-led, lecture-based format. The award recipients have demonstrated improved retention and training transfer in their sessions by implementing these methods as well as an increased tie-in to business objectives.
Zhao was formally recognized at an awards luncheon in Minneapolis, on September 11, 2013.
China Minsheng Banking Corp., is the first bank in China to be owned mostly by non state-owned enterprises (NSOE) and is a pilot program of China's banking reform. The bank has 33 branches and over 700 banking outlets throughout the country and has assets of RMB 3.2 trillion.
About The Bob Pike Group
The Bob Pike Group has provided trainer training and manager training workshops and consulting services to individuals and corporations for more than 30 years. Clients have been applying Bob's Participant-Centered Instructional System to build their learning organizations, strengthen retention and enrich desired results. For more information, in the United States, contact Keith Baudin at 952-829-2653 or via email at KBaudin at BobPikeGroup.com or visit http://www.BobPikeGroup.com. In China, contact Jason Shi at Promo Consulting Co., Ltd., at 861-350-1068 ext. 771 or via email at haiminshi(at)gmail(dot)com.