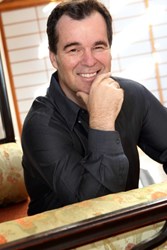 I've always taught that the key is not the strategies themselves. It's getting people to understand them and then employ them. That's what's different about the way I do things, and that's why it works for so many people.
(PRWEB) October 01, 2013
In a recent Creative Real Estate podcast, property mastermind, Rick Otton and one of his successful UK students, Ian, discussed how important it is for a property investor to use the right property investment strategy in solving people's property problems.
Mr Otton's student Ian, living in Scarborough, England, has been managing his thriving business since 2009 and is currently averaging £25,000 to £40,000 per transaction, in a town of 50,000 people, where the average house price is at £130,000. He started using progressive property strategies when the 2008 market downturn left him holding a renovated house that had a purchase price, which was far more than he could sell it for.
"I think I would have lost about £10,000. I thought I'd get about £140,000, but would have sold it only around £130,000," said Ian.
Everything changed for Ian in 2009, when he discovered Rick Otton's strategies for buying and selling real estate.
"I managed to get hold of Ben Rogers, one of the people in the UK who studied under you, Rick, and I said, 'I need this rent-to-buy pack'. I read through the information over two days, and I thought it was a fantastic way of doing what I was already doing, but instead of selling in the normal way, I just put a sign up and managed it as a rent-to-buy transaction. I did it on a three year rent-to-buy with a purchase price of £146,000," said Ian.
From those beginnings, Ian revealed in the Podcast that he went on to apply a variety of Mr Otton's innovative strategies in order to build up a property portfolio. In what is a common theme with Mr Otton's students, he focused on solving people's property problems, rather than simply doing property deals – even if it takes a little longer.
"My feeling has always been, and from listening to what [Rick] said as well, that even if I've got to have a bit of a long hold or more holding cost, I'd rather make sure I'm getting the right people into the properties," said Ian.
Ian and his wife returned to Mr Otton's ultimate real estate bootcamp in 2011 and 2013. Along the way, he's learned a range of different strategies, which apply to a variety of situations, and has completely changed his mindset towards property investment.
"I can't go back, even for our next property, I just keep thinking I'll find something that's empty and see if they'll take payments on it!" said Ian.
"I've always taught that the key is not the strategies themselves. It's getting people to understand them and then employ them. That's what's different about the way I do things, and that's why it works for so many people," Mr. Otton shared.
Learn more about Ian and Rick Otton's Creative Real Estate strategies on iTunes or at CreativeRealEstate.com.au.
About Rick Otton
Rick Otton, renowned property investment strategist, has spent decades making money by snapping up inexpensive real estate and putting it to work building wealth, and teaching others to do the same.
He is the founder and CEO of We Buy Houses, a leading property enterprise in the international markets of Australia, United Kingdom, New Zealand and the USA.
Motivated by the "Savings and Loan Crisis", Rick received his start in alternative real estate investment in 1991 in the USA. Within a year, he had acquired 76 properties and in subsequent years, he made a fortune using his low-risk, high-reward strategies to inexpensively acquire real estate. He continues to do so and shares this knowledge to those who are interested to learn.
Rick spends his time between Australia and the United Kingdom, sharing his wisdom and teaching others how to buy and sell real estate, free from the constraints imposed by traditional lenders.
In April 2013, Mr. Otton celebrated the 10th year anniversary of introducing creative real estate strategies in the UK during the Zero-Debt Property Cashflow Conference, which is held annually for people who are interested in learning more about Rick's strategies. The 3-day conference covers all the topics discussed in How To Buy A House For A Pound and how it can be applied successfully in real life scenarios.
Rich has been featured in a variety of television programs and magazines and in 2013 he published 'How To Buy A House For A Dollar' for the Australian market. This book has been named in the list of the Top 10 Most Popular Finance Titles for 2013, as voted by Money Magazine and Dymocks Book stores. He has also recently announced the upcoming release of his book "How to Buy a House for a Pound", which is a compendium of all the strategies a property investor needs to buy and sell houses easily in the UK without the need for traditional bank financing.
Details of Mr Otton's UK Zero-Debt Property Cashflow Conference can be found at RickOtton.co.uk or phone, in the UK, 0207 000 1027.