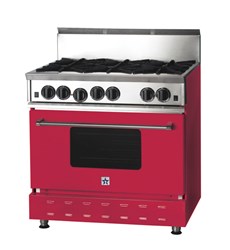 Introducing a 'pop' of color into your kitchen décor is an easy way to make a powerful design statement.
Reading, PA (PRWEB) October 01, 2013
Just as leaves change colors in fall, Bluestar® professional gas ranges allow for a color change of a different kind – the ability to select a seasonal color for a kitchen appliance. Either opt for a new professional gas range in any one of 750 color choices, or easily spice up a BlueStar with new knobs available in all of autumn's brilliant shades, from gold to rust, and from orange to red.
Introducing a "pop" of color into your kitchen décor is an easy way to make a powerful design statement. As announced by PANTONE®, among the hottest fall colors are Samba, Mykonos Blue, Koi and Deep Lichen Green. Emerald Green, the PANTONE 2013 Color of the Year, can still be seen everywhere.
Customize your BlueStar with the Latest Colors
Among BlueStar's favorite fall colors are: Mykonos Blue (BlueStar's RAL #5019), a bold, pensive blue that offers a classic and relaxed fall look, and Carafe (BlueStar's RAL #7013), a rich, intriguing brown. Samba red (BlueStar's RAL #3027) adds drama and romance, while Vivacious (BlueStar's RAL #4006) is a deep, gorgeous fuchsia that inserts a bit of fun to the palette.
BlueStar® lets anyone unleash their inner designer with a wide variety of color options as well as endless configurations for ranges, cooktops and wall ovens. To view these endless possibilities, BlueStar offers an interactive website tool entitled "Build Your Own BlueStar" which allows you to customize a new BlueStar range by choosing everything from the intensity of the burners to the color of the knobs and the color of the range itself.
BlueStar® has been a leader in color customization for nearly a decade, offering cooking equipment in more than 750 standard color and finish choices plus thousands of custom color options. Even the knobs are available in 190 colors, and both knobs and trims are offered in designer metals.
Constructed of superior-quality, commercial-grade stainless steel, all BlueStar® products are designed to withstand the rigors of the busiest home kitchens. BlueStar professional gas ranges provide the home chef with a cooking experience that only can be matched by a restaurant kitchen environment. Its power burners provide up to 25,000 BTUs of cooking power for consistent, controlled heat and shorter cooking times. High heat cooks food fast and generally locks in moisture and flavor so food tastes better. And for delicate soups and sauces, no stove matches BlueStar's gentle 130 degree simmer burner.
Since 1880, Prizer-Painter Stoveworks, the manufacturer and owner of BlueStar®, has built top-quality ranges for the home chef at its factories in Reading, PA. Each BlueStar® range is handcrafted by skilled American workers, continuing a 133 year heritage of American craftsmanship. For more information, please visit http://www.bluestarcooking.com.