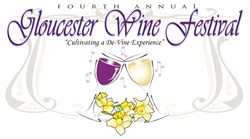 Gloucester, VA (PRWEB) October 01, 2013
Attendees might come for the wine at the 4th Annual Gloucester Wine Festival hosted by the Gloucester Chamber of Commerce at Brent and Becky's Bulbs on Oct. 26 from 11 a.m. to 5 p.m.
But event organizers – who have secured The Deloreans, the region's premier 1980s cover band; StonesThrow, a powerhouse acoustic duo; and Something Different, which features a rising vocalist with pipes like Adele and Nora Jones – hope everyone will stay for the music.
"This is a community celebration and music pairs oh-so-well with Virginia wine," said Gloucester County Chamber of Commerce Executive Director Makalia Records. "We're thrilled to feature these three bands at the wine festival, thanks to Chesapeake Bank, which provided the sponsorship to secure these amazing musical acts."
Headlining the event on the Chesapeake Bank Stage is The Deloreans, a Hampton Roads, Va.-based all 1980s show band. They describe themselves as "like a time machine, where through flashy 80's costumes and upbeat retro tunes, one feels as though they were 18-years-old watching the first MTV music video ever."
"This is a big win for us," said Dayton Wiese, President of the Gloucester County Chamber of Commerce Board of Directors. "They are the premier 80s cover band in the MidAtlantic and regularly play clubs and gigs from D.C. to the Outer Banks and attract large crowd. We are very excited to have The Deloreans at the festival and look forward to them taking us back to the 80s."
StonesThrow is an acoustic music duo made up of decades old friends Jeff Green of Gloucester, Va. and Eddie Terrell of Yorktown, Va. Green is a guitarist, vocalist and songwriter. Terrell is a guitarist, vocalist and pianist.
Something Different of Gloucester, Va. is a father-daughter musical duo – Brad and Ashley Sindle – that performs old standards, 1960s and 1970s hits, and today's popular artists. Ashley Sindle has become well known for her ability to belt out and carry the notes of today's greats like Adele, Alicia Keys and Nora Jones. Brad Sindle also plays the keyboards and organ for Slapnation, another popular Tidewater, Va.-based band, formerly known as Slapwater.
The Gloucester Wine Festival will feature 10 award-winning Virginia wineries this year, the most the festival has ever featured.
Confirmed wineries this year include Good Luck Cellars of Kilmarnock; Saude Creek Vineyards of Lanexa; James River Cellars of Glen Allen; Vault Field Vineyards of Kinsale; Notaviva Vineyards of Loudoun County; Athena Vineyards of Heathsville; Trump Winery of Charlottesville; Mattaponi Winery of Spotsylvania; Chateau Morrisette of Floyd County and the DeVault Family Vineyards of Concord.
The wine festival will feature wine tastings and wine educational seminars, as well as an assortment of vendors and fine food.
Jessica's On Main, VA Blue Crab, AGORA (The Greek Market), Ben & Jerry's Ice Cream, Juan's Mexican Café and Riverwalk / Water Street Grille will be on site throughout the festival offering a range of cuisine.
Brent and Becky's Bulbs is located at 7900 Daffodil Lane.
Learn more about the 4th Annual Gloucester Wine Festival, and purchase tickets, online here: http://www.gloucesterwinefestival.com.
Sponsorship opportunities are still available at various levels, from $100 to $3,500, and include benefits of event tickets, private tables, wine glasses and advertising.