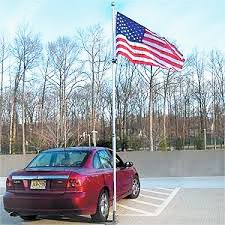 This is one of those items you didn't know you needed until you try it.
Atlanta, GA (PRWEB) October 02, 2013
The Flag Company, Inc.'s 16 ft. portable telescoping fiberglass flagpole by Valley Forge brings new style and convenience to pre-and post-sporting events tailgate parties and picnics, as guests can easily find their hosts among seas of fellow fans.
Not only ideal for tailgate festivities, this portable flagpole set is also very useful for campsite signage, recreational vehicles, advertising purposes, parties and picnics in general, decks and docks, and a variety of home uses. Along with the pole being perfect for temporary display of one or two standard flags or one feather flag, the set also includes:

16' fiberglass telescoping flagpole, once assembled (flag not included)
Plastic ball top
Portable wheel mount bracket
Ground sleeve
Swivel flag hooks
Nylon carrying case
Price: $49.95
Numerous customers have found this set very useful and enjoy the extra "pizzazz" it gives to their gatherings. "This is one of those items you didn't know you needed until you try it," says Mike Lawrence, Vice President of The Flag Company, Inc.
With easy ordering online on the Valley Forge section of The Flag Company, Inc., or with the new Flagco mobile app, you can be tailgating with style in time for the next game.
About The Flag Company, Inc.
As the largest online flagpole supplier, The Flag Company, Inc. offers a complete range of flags and flag-related products in addition to its line of flagpoles and signature Flagpole Beacon. Custom screen-printing and digital printing are available for special events, corporate logos, etc. Stock merchandise includes U.S., state, international, and military flags, and all types of accessories such as bunting, memorial cases, pennants, and more. The Flag Company, Inc. is the nation's largest producer of message flags, offering over 300 different messages used by realtors, restaurants, car dealerships, and any other kind of company imaginable. Toothpick flags—both stock and custom-made to order— are also available. The complete product line can be viewed at http://www.flagco.com. "Feel Good Light-Ups," a decorative light lens for fluorescent light fixtures, are now so popular there is a dedicated website at http://www.feelgoodlightups.com. Flagpoles and Flagpole Beacons are featured at http://www.flagpolewarehouse.com. Toothpickflag.com has a wide selection of toothpick flags for any occasion, party or corporate event, with a custom department for that one-of-a-kind special design.