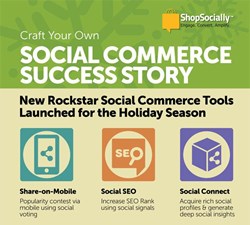 "Share-on-Mobile app will be of great value for retailers in the upcoming Holiday season. Embedding social media influence in the shopping flow can work wonders for retailers." - Jai Rawat, CEO, ShopSocially
(PRWEB) October 01, 2013
ShopSocially – a leading social commerce platform – today announced the launch of "Share-on-Mobile", a pioneering mobile app to promote social commerce through offline sharing on mobile. This app captures the point of delight when a shopper receives a purchased product. Using their mobile phone, shoppers can share a photo and a comment about that product on social networks, driving word-of-mouth advertising for the brand. Additionally, this generates valuable social photo testimonials that can be embedded on the website or on a Facebook page. This app can also be implemented to run a popularity contest via mobile using social voting.
ShopSocially offers a comprehensive suite of on-site social commerce modules which can be integrated on an e-commerce site to drive user engagement, sales conversion uplift and increase in social revenues. Adding to this suite, Share-on-Mobile brings the off-site component of social commerce using which retailers can encourage customers to share their product-usage photos via mobile. These can be photos of un-boxing the product, unique or novel usage of product or just an attractive picture featuring the product; especially for fashion or beauty products. Retailer can choose to curate these social photo testimonials and showcase them on their Facebook page or on their website.
Share-on-Mobile is inspired by Share-a-Purchase, a popular post-purchase social commerce app from ShopSocially, which rewards customer with a coupon for sharing their purchase on social networks. This makes purchases go viral, generates influential word-of-mouth recommendations and brings in quality social traffic. To-date, ShopSocially has generated more than 200 million word-of-mouth impressions through this social sharing of purchases. This has resulted in quality social traffic to e-commerce sites which has converted at a high sales conversion rate of 23.7%. Share-on-Mobile extends this functionality for off-site generation of social recommendations.
An interesting implementation of Share-on-Mobile app can be to run a popularity contest using social voting. Product photos shared by customers can be entered into a popularity contest based on Facebook Likes received by the photo. This adds a gamification aspect to social commerce and can significantly boost the word-of-mouth publicity for the e-commerce brand.
Along with Share-on-Mobile, ShopSocially has also launched two more apps; (i) Social SEO – to boost SEO Rank of e-commerce website using social signals like Facebook Likes, Twitter tweets and Google Plus shares; and (ii) Social Login – to allow users to login to an e-commerce site using their existing social network accounts.
ShopSocially social commerce apps are creating impressive social commerce success stories. Till August 2013, ShopSocially platform has generated incremental annual revenues of more than $50 million through its social commerce apps. ShopSocially apps have converted 4.3% of website traffic into qualified Facebook fans. 50% of these fans have also become email subscribers.
For Carol's Daughter – a popular online retailer for hair, skin and body products – ShopSocially apps generated a revenue uplift of 8%. LinenTablecloth – the largest online retailer for linen and table cloth products – has added $1.8 million in incremental revenue using social media. MrWatch.com – a well known retailer for new, brand name watches – increased their Facebook fan count by 293% in 3 months using ShopSocially apps. ShopSocially has released an infographic highlighting these social commerce success stories.
A visitor on an e-commerce site always has higher purchase intent as compared to when she is browsing a social network site. On-site social commerce modules from ShopSocially uses social media influence to convert this purchase intent into a sale and drive word-of-mouth recommendation from shoppers. This strategy has resulted in significantly higher ROI compared to selling on social networking sites where user is generally in a leisurely browsing mood and therefore, unlikely to shop.
"Embedding social media influence in the shopping flow can work wonders for retailers. It can significantly increase user-engagement, drive higher sales conversions and generate a marked increase in revenue." commented Jai Rawat, CEO of ShopSocially. "Share-on-Mobile app will be of great value for retailers in the upcoming Holiday season. We are expecting to see many more impressive social commerce success stories".
About ShopSocially:
ShopSocially is a SaaS social commerce platform driving millions of dollars in incremental revenue, new customer acquisition, improved SEO rank, growth in Facebook fan base, and word-of-mouth branding for 100s of top brands.
ShopSocially platform enables a suite of onsite social apps for e-commerce sites. Examples of these apps include Ask-a-Friend, purchase sharing, fan acquisition, shopping community, social reviews and more.
ShopSocially has won several awards and has also been featured by Facebook in a Social Commerce case study. Launched in Oct 2010, ShopSocially is a privately held company in Mountain View, CA. For contact information, please visit http://shopsocially.com/platform/contact-shopsocially.html.