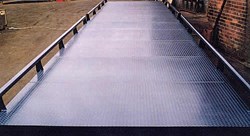 This was a horrific incident with tragic consequences. It left Mr Eagle's girlfriend without a partner, and his son, born eight months after the incident, without a father.
Bolton, UK (PRWEB UK) 1 October 2013
Cardiff Crown Court heard on the 25th September that Geraint Eagle, aged 21, died in December 2010 while cleaning sensors on the weighbridge at the waste site run by Nolan Recycling Ltd. The victim had only worked at the site for six months before his death.
According to the Court documents, Mr Eagle was told to remove mud from sensors on the weighbridge. As he had never carried out the task before, he worked alongside a more experienced colleague. However, after having a break, Mr Eagle returned to the cleaning task alone.
It is believed that, that when a skip lorry drove onto the weighbridge, Mr Eagle picked up his tools and moved out of the way. The driver then left his cab, and went into the site office, and Mr Eagle returned to his work. When the driver returned, and drove on, the lorry hit the worker as he was working at the front of the lorry. Unfortunately, the incident was fatal, and he was pronounced dead at the scene.
The court was told that the driver could not see Mr Eagle, as he was in a "blind spot."
An investigation by the HSE highlighted a series of failings by the recycling firm. These included a failing to appreciate the risks associated with the site, a failure to train and supervise the new staff, a failure to provide a system of maintenance for equipment like the weighbridge, and a failure to have a health and safety plan in place.
Commenting on the news, Tom Fairclough, Executive at Asons Solicitors, said that:
"A fatal accident of this kind is devastating. It could have easily been prevented had Health and Safety guidelines been in place. It is alleged that there were no measures in place to segregate workers from vehicles, and no formal training was provided to Mr Eagle. Such negligence caused the unacceptable death of a young worker. "
"Here at Asons, we strongly believe that no one should die because of negligence from an employer. Those who have experienced similar working conditions should not hesitate to make a health and safety claim."
Following the hearing, HSE Inspector Sarah Baldwin Jones, said:
"This was a horrific incident with tragic consequences. It left Mr Eagle's girlfriend without a partner, and his son, born eight months after the incident, without a father.
"There were multiple failings at the site, which should have been obvious and could easily have been addressed.
"Nolan Recycling Ltd should have closed the weighbridge while the work was taking place had a clear written risk assessment for the maintenance work and had policies in place to separate site workers from moving vehicles. They should also have provided proper training to Mr Eagle and his colleague who was supervising his work.
"There can be no excuse for companies in the waste industry not taking reasonable steps to safeguard their workers as there is a wealth of information and guidance from trade bodies as well as the HSE."
Mr Eagle's father, Paul Eagle, said:
"We all miss Geraint very much. This tragedy has had a huge impact on the family.
"I hope other businesses will learn lessons from this and put workers' safety first. No other families should have to go through what we have been through."
Asons Solicitors suggest that if someone would like to learn more about the consequences of construction accidents, or if they would like to better understand the Industrial Accident Claim process, that information is available at http://www.asons.co.uk, or via an expert helpline on 01204 521 133.
(1) Health and Safety Executive, 25/09/2013 hse.gov.uk/press/2013/rnn-w-nolan-recycling-ltd.htm
(2) Cardiff Crown Court, 25/09/2013 - Case Number S20130424
ENDS
About Asons Solicitors:
Asons Solicitors is a Bolton-based law practice that specialises in personal injury and industrial disease claims. Founded by brothers Imran Akram and Kamran Akram, Asons Solicitors has developed to become a young and dynamic law firm that delivers practical solutions to clients in times of difficulty. Their continued focus on their staff has seen them awarded with the Investors in People "Gold Award"; which is reflected in the professional and personable approach they take in working with clients. They strive to grow and to develop, and their supportiveness and attention to detail ensures that their clients use them time and again.
For further information contact:
Email: info(at)asons(dot)co.uk
Website: http://www.asons.co.uk