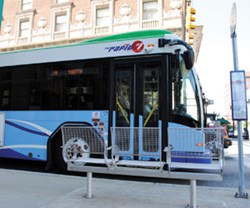 The new [fare collection] line [will be] the first BRT line in Michigan [that] will span three cities - including Grand Rapids, Kentwood & Wyoming - and include 33 stations.
Burlington, MA (PRWEB) October 01, 2013
The Rapid, formally known as the Interurban Transit Partnership, in Grand Rapids Michigan approved a contract in August for its new fare collection system for the Division Avenue Bus Rapid Transit Project. This new line, the first BRT line in Michigan, will span three cities - including Grand Rapids, Kentwood & Wyoming - and include 33 stations. This fare collection system will consist of 40 ticket vending machines, 40 platform validation devices, 10 handheld validation devices, and 2 point of sale devices with smartcard personalization capabilities. All will be networked to the FareGo Data fare management system.
This new system will be a significant step forward in fare collection technology while maintaining backward compatibility for the existing infrastructure. Scheidt & Bachmann will be deploying the latest smart card based fare media technology. The system will also accept and process magnetic fare media currently in use by their legacy bus fare collection system, which the Rapid maintains on their non-BRT operations. This legacy system had been previously provided by a separate vendor. This system will provide significant scalability and flexibility to grow as The Rapid continues to expand both its service and breadth of fare solutions to its ridership.
Scheidt & Bachmann USA, Inc. is a leading provider of Fare Collection Systems and Services for mass transit. The company has provided complex transportation solutions for 140 years and specifically for the past 30 years in the fare collection industry. Core business activities include manufacturing, integrating, deploying, servicing and hosting Ticket Vending Machines, Fareboxes, Faregates, Validators, POS, Handheld Devices, Parking Solutions and Centralized Data Systems. Scheidt & Bachmann's U.S. headquarters are located in Burlington, MA. With 24 subsidiaries across the globe, Scheidt & Bachmann has over 2,000 employees worldwide and has an unwavering commitment to the long term success of our customers. For more information, visit Scheidt & Bachmann's website at [http://www.scheidt-bachmann.com.