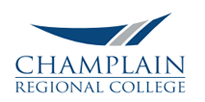 Montreal, QC (PRWEB) October 02, 2013
With the new school year just starting, Champlain Regional College has unveiled its newly redesigned website. The site features a striking fresh look that greatly simplifies navigation to each of its three campuses, while enhancing ease of access and user engagement.
The attractive, contrasting black and white skin, interspersed with tastefully selected campus photographs,creates a more appealing site for prospective students to discover information about the campus that will best suit their needs, thus accentuating Champlain's distinctive brand. The home page features a slideshow design, highlighting important details about each campus' location and program offerings, and the College's latest news. It also allows Champlain Regional College's diverse audiences to easily access policy and governance documents, as well as services and campus information most relevant to them with the aid of fixed navigation buttons.
Champlain's redesigned website uses the WordPress publishing platform, facilitating the maintenance of the site and ensuring the public has the most current College information. The overall effect is a more balanced design that conveys an assured professional quality, appropriate to the respected and recognized multi-regional College. It functions as a gateway to numerous services for partners, administration, students and parents, and includes information related to job opportunities, human resources policies, financial services, and material services.
This new website is expected to help enhance communications between Champlain Regional College and its internal and external partners. The College interacts with numerous internal stakeholders across the three campuses, and this online portal provides efficient access to the Board of Governors, the Secretary General's Office, and the Director of Studies' Office. External partners of the College include numerous governmental, university, academic, technology, reference, and other college links.
Champlain Regional College is the only English-language public Cégep in Québec with three locations. The Lennoxville, St. Lambert, and St. Lawrence campuses offer a wide range of pre-university and technical programs, as well as extensive on- and off-campus continuing education services. Through each campus's distinctive history, culture and traditions, Champlain College's unique multi-regional structure responds to the needs of diverse linguistic and cultural communities, and contributes to the educational and socio-economic development of Québec.