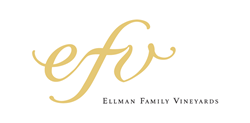 (PRWEB) October 01, 2013
Fort Lauderdale, FL, September 18, 2013 – Ellman Family Vineyards is proud to announce the release of their 2011 Pinot Noirs and 2010 Napa Valley Red Proprietary Blends. The Pinots include Alexis Skye and Amanda and the Blends are Brothers Blend and Jemma.
Bottled in 2012, the Pinots were harvested in 2011 and the Blends in 2010. Jemma and Brothers Blend (the Blends) are from vineyards in the Rutherford and Coombsville areas in Napa Valley. Alexis Skye Pinot Noir is from a vineyard on the Sonoma Coast and Amanda Pinot Noir is from a vineyard in the Russian River Valley. "After 5 years of surveying various vineyards around Napa and Sonoma, we are confident that the vineyards we selected for these vintages have produced outstanding wines," said Lance Ellman co-founder of Ellman Family Vineyards.
Our winemaker, Kian Tavakoli, has been with us for 5 years. Tavakoli brought his experience with Opus One and Clos du Val Wineries to insure we continually produce high-end quality wine. In discussing the latest release, Tavakoli said, "2010 and 2011 were successful vintages for Ellman Family Vineyards, given the challenges that were presented to us during the two growing seasons. We worked with a solid vineyard crew that made sure not to pull leaves aggressively so as to burn the clusters. Therefore, the resulting 2011 Pinots we produced have been exhibiting beautiful ripe cherry and strawberry notes with balanced acidity that will allow the wines to develop more complexity with a few more years of bottle aging. In regards to the 2010 BB and Jemma, the Bordeaux varieties used came to the winery plenty ripe, with great color in the skins and robust tannins in the seeds and skins; yielding focused, structured and layered wines that will only improve with additional cellaring."
"We are very excited about this limited release as we were able to take the knowledge we have acquired over the years and apply it to the process of making these wines," said Neil Ellman, co-founder of Ellman Family Vineyards. There will only be 750 cases available in this release. The new release will be available on our website, http://www.ellmanfamilyvineyards.com. We encourage people to join the EFV Community while visiting our website. This will enable them to get the latest news and special promotions that we offer from time to time.
About US
Ellman Family Vineyards was started by Neil and Lance Ellman in 2005 after many years of studying the business. Our awards and reviews include – James Suckling, South Florida Food and Wine, Wine Watch and Wine Enthusiast. EFV has spent much time honing our skills with many refined winemakers, attending various wine courses and seminars and conversing with friends in the wine business. Exploring the different areas across the Napa Valley and Sonoma Coast, has allowed us to gain insight into the numerous techniques used to make our Pinot Noirs, Cabernets, and Blends.
For More Information:
Evan Ellman
954-465-6436
evan@jlegroup.com
http://www.ellmanfamilyvineyards.com