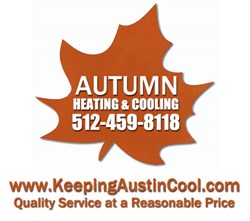 We value each of our customers and ensure that each customer gets complete satisfaction through our air conditioning repair service in Austin, TX.
Austin, TX (PRWEB) October 04, 2013
When the air conditioner needs service, repair, or replacement, customers want a knowledgeable skilled professional that can be counted on to do the job right and to provide courteous air conditioning service that will have customers calling Autumn Heating & Cooling for the next time air conditioning repair in Austin. Autumn Heating & Cooling provides customers with award winning services, all performed by qualified NATE HVAC certified air conditioning technicians. With huge discounts, low repair service fees, an excellent product line, and top-notch service guarantees, this trusted Austin area business has the customer covered, whatever air conditioning services are needed.
The summer season is coming to an end and fall is on the way. Now is the time to get the heating system ready for the cold months ahead. Customers want to ensure the heater or furnace is working effectively to keep the home warm and cozy this winter.
Autumn Heating & Cooling is available to provide ac service and heating repairs in Austin to ensure customer's air conditioners and heaters are working properly before the season hits or whenever needed. Of course, if the air conditioner or heater is not running smoothly or quits altogether, this BBB A+ business provides qualified ac technicians 24 hours a day to provide ac service calls and air conditioning repair so the customer won't have to remain in the Texas Summer Heat for long.
Autumn Heating & Cooling can also provide Austin residents with new air conditioner replacements, including air conditioners for the home or rental residential properties. Winner of the Angie's List Super Service Award, this air conditioning service offers a range of energy efficient units from major brands such as Tappan, Lennox, Rheem, Goodman, and more. With a low service call fee and 24-hour service, certified ac technicians are available 7 days per week to assist with all of your air conditioning service and ac repair needs. Available for air conditioning service and air conditioner installation as well, Autumn Heating & Cooling provides huge discounts and specials on complete system installs, guaranteeing professional service and absolutely no hidden fees or charges.
Now is the time for air conditioning system checkups to ensure your air conditioning and heating system is running properly for the cold months ahead. Give Autumn Heating & Cooling a call to schedule your appointment right away.
About Autumn Heating & Cooling: Autumn Heating & Cooling is a trusted BBB member business providing quality heating and air conditioning service, repair, and installation to Austin and the surrounding area. With low service fees, huge discounts, and quality service, Autumn Heating & Cooling has become a local household name.