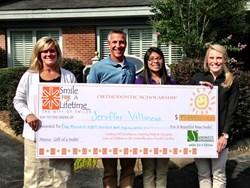 I have felt led to participate for many reasons and fate would have it, we adopted the tagline "Smiles for a Lifetime" nearly ten years ago, before this organization existed! -- Dr. Jeff Summers
Taylors, SC (PRWEB) October 14, 2013
Dr. Jeff Summers of Summers Orthodontics in Taylors, South Carolina recently joined the national organization Smile for a Lifetime (S4L) Foundation and formed a local chapter. A non-profit organization, Dr. Summers S4L local chapter will be awarding orthodontic scholarships (free braces) to several children annually.
Treatment began for Jeniffer two weeks ago. Aesthetically, Jeniffer has a very obvious need for braces. However, functionally, she also has an anterior crossbite that will be corrected throughout the course of her treatment. Because many S4L scholars experience bullying because of their smiles, Jeniffer's orthodontic experience will have a long term impact on her, both physically and emotionally.
Dr. Summers and team feel that they are blessed to be able to give back to the community and invest in a young person's life through the gift of a smile.
Due to a language barrier within the family, a social worker from Jeniffer's school helped communicate between the local chapter and her family. He, along with many other school employees, were certain that Jeniffer was a great candidate for the scholarship. She has a willing and generous heart and always volunteers to help others according to school officials.
If you or someone you know has a child 11-18 years of age and would like to apply for a scholarship, please contact Summers Orthodontics for an application.