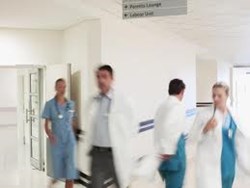 A clear distinction between cancerous and healthy tissue will leave less room for surgical errors.
Bolton, UK (PRWEB UK) 2 October 2013
According to the Manchester Evening News, Stepping Hill Hospital is among the first to successfully use a glowing dye, aiding the removal of a cancerous kidney tumour (1). The pioneering treatment could help prevent the incidence of surgical errors, increasing the success rate associated with the procedure.
Believed to be the first of its kind in the UK, the operation involved the use of a fluorescent green dye, highlighting the healthy part of the kidney, leaving the cancerous tissue to be black in appearance (1). As reported in the Manchester Evening News, this colour distinction improves the surgeon's ability to distinguish the cancerous tumour, enabling a thorough removal, saving the healthy tissue where possible.
Conducted by surgeons Steve Bromage and Neil Oakley, it has been agreed that the operation was a complete success (1).
Steve Bromage, described the procedure as follows –
"This is a significant advance. The new cost-effective technique helps surgeons preserve as much kidney function as possible while still removing all the malignant tissue."
"The dye clearly shows the boundaries of the cancerous tumour in just seconds, giving surgeons a quick and safe way to definitively mark the margins of cancerous tissue."
"This allows us to spare as much healthy kidney tissue, and kidney function, as possible."
"Sparing even a little bit of kidney tissue, that we might have otherwise taken out, is a very good thing."
Following their success, the hospital plans to continue using the technique, with the results being followed with great interest (1).
Considering the procedure, Asons Executive, Laura Williams –
"This technique represents a progression in surgical techniques, and it will be interesting to see how cancer treatments improve."
"A clear distinction between cancerous and healthy tissue will leave less room for surgical errors; it may also improve the prognosis for those whose treatment has been delayed due to cancer misdiagnosis."
"At Asons Solicitors, we see claims for surgery compensation, where complications have hindered recovery. Improvements such as these can help avoid such scenarios, improving the success rate of complicated procedures."
In the event that someone has been subject to cancer misdiagnosis, they must seek legal advice as quickly as possible. Taking action can prevent the same situation from reoccurring, helping others to avoid injury in future.
Those who have suffered from cancer misdiagnosis may be able to make a clinical negligence claim for cancer misdiagnosis compensation. Asons Solicitors deal with NHS compensation claims on a regular basis, they can be contacted on: 0844 850 1062 or via their medical claim form at asons.co.uk.
-Source-
(1) The Manchester Evening News 'Glowing dye' saves cancer patient in operation first at Stepping Hill hospital (16/0/2013), manchestereveningnews.co.uk/news/greater-manchester-news/glowing-dye-saves-cancer-patient-6030512
-ENDS -
About Asons Solicitors:
Asons Solicitors is a Bolton-based law practice that specialises in personal injury and industrial disease claims. Founded by brothers Imran Akram and Kamran Akram, Asons Solicitors has developed to become a young and dynamic law firm that delivers practical solutions to clients in times of difficulty. Their continued focus on their staff has seen them awarded with the Investors in People "Gold Award"; which is reflected in the professional and personable approach they take in working with clients. They strive to grow and to develop, and their supportiveness and attention to detail ensures that their clients use them time and again.
For further information contact:
Email: info(at)asons(dot)co(dot)uk
Website: http://www.asons.co.uk