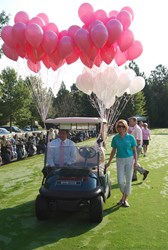 We must join our friends in the fight against this horrible plight.
Suwanee, GA (PRWEB) October 01, 2013
SimpleFLOORS has combined forces with Pink Ribbon International to increase cancer advocacy. SimpleFLOORS sponsored a hole at the 2013 Pink Ribbon Golf Classic this year, which successfully raised over $150,000 in donations for the American Cancer Society.
For years, simpleFLOORS has shown a commitment to working with Pink Ribbon International to pay tribute to cancer victims and survivors. SimpleFLOORS President Bin Liu participated in the Pink Ribbon Golf Classic tournament, and was joined by local celebrities like Former Atlanta Falcons receiver Brian Finnernan as well as 11Alive news anchor Ted Hall in paying homage to a condition that continues to cripple family dynamics worldwide.
"We must join our friends in the fight against this horrible plight," says Bin Liu, president of simpleFLOORS. The Pink Ribbon Golf Classic specially recognized Sandra Strickland and Lisa Beerman as two of roughly a dozen distinguished humanitarians for their efforts in battling cancer and raising money for research.
In lieu of the transnational campaign for cancer awareness, simpleFLOORS is running a special Pink Ribbon promotion, discounting select collections of premium-grade hardwood flooring.
simpleFLOORS Inc. is an Atlanta-based factory-direct online retailer with 15 showrooms in California, Oregon, Washington, Georgia and Florida, offering premium-grade design-conscious wood flooring at guaranteed low prices. Guided by fresh insights from the interior design community, including new color trends, depth-enhancing hand-sculpting techniques and distinctive grain treatments, simpleFLOORS contract-manufactures, imports, sells and ships direct to residences, business addresses and construction sites for pick-up anywhere in the U.S. and Canada.
From engineered exotic species to laminates, bamboo and cork products, simpleFLOORS respects the environment and carries a wide range of sustainable, renewable, durable and long-lasting wood flooring options.
Contact simpleFLOORS at 800-220-7112 or visit the simpleFLOORS website at http://www.simplefloors.com.