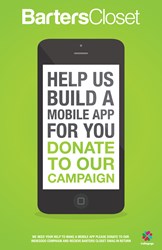 Spokane, WA (PRWEB) October 03, 2013
Indiegogo Campaign: http://igg.me/at/barterscloset/x/4588533
After the successful launch of its online bartering platform, Barters Closet (http://www.barterscloset.com) intends to go mobile with your help. Barters Closet is a place where people can barter for a new wardrobe in a social network setting. The company is launching its Indiegogo campaign on October 3, 2013.
Indiegogo is an international crowdfunding site where anyone can raise money for film, music, art, charity, small businesses, gaming, theater and more. Barters Closet is using this platform to raise capital to build its mobile application. Crowdfunding sites like Indiegogo enable startups to raise capital and allow individuals to contribute to the success of companies they believe in. Barters Closet is inviting consumers to be part of creating an exciting, new bartering exchange and helping reduce waste by extending the life of previously worn apparel.
At Barters Closet, users create a profile, known as a "Closet", and have the option of listing clothing for barter, sale or donation. People change their wardrobe for a variety of reasons such as weight, growth, season or just a change of style. As a result, closets become full of neglected clothing. Barters Closet features a robust set of intuitive and easy to use tools, which makes creating a Closet simple and fun. Anyone can visit Barters Closet and purchase items listed for sale without creating a Closet.
The Barters Closet mobile application will allow users to take pictures of their clothes and upload them for barter, sale or donation; right from their phone! Users will also be able to connect with other users by following them, messaging them and thriftying them. Buyers will be able to shop through everything uploaded to Barters Closet to find that one-of-a kind item they are looking for.
Twenty-one year old Connor Simpson came up with the idea for Barters Closet. Connor is somewhat of a sweaterphile. You'd be hard pressed to find Connor in anything but a sweater during the fall and winter seasons. Two years ago, Connor realized he had compiled about 50 sweaters in his collection and was no longer able to keep them all in one closet. Connor looked online to see if there was a place to trade sweaters with someone and receive a different sweater in return. To Connor's disappointment, he could not find such a place, so he decided to create Barters Closet. Connor founded Barters Closet with the help of Philip Glenn and Marcus Ford.